Ernie Els: South African golfer has it all again

By Iain Carter
BBC golf correspondent
Last updated on .From the section Golf26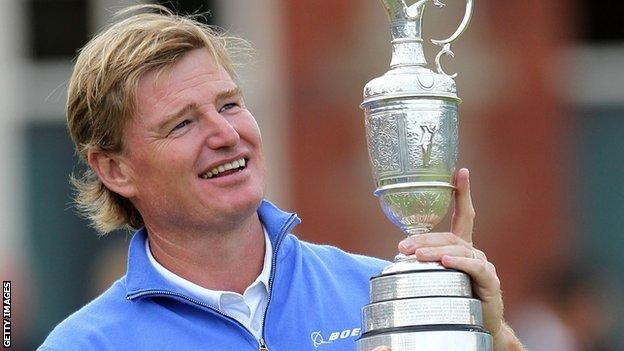 When Ernie Els flung his cap in the air to celebrate his first Open Championship he was a man who seemingly had it all.
It was 2002 and the tall South African had just claimed his third major title. He was the superstar rival to the then-utterly dominant Tiger Woods.
He had a bulging bank balance and a settled family life - a beautiful toddler daughter and his second child's arrival was imminent.
Els's skyline was perfectly blue without a cloud on the horizon. Little did he know, though, how great were the challenges that lay ahead on and off the golf course.
Soon after collecting his first claret jug Els was cradling his newborn son Ben at his sumptuous Wentworth home. The family was complete and it was surely just a matter of time before he would celebrate the arrival of more major titles.
He was desperately close to winning the 2004 Masters and after missing a putt to win the Open at Troon later that year he lost a play-off to the unheralded Todd Hamilton.
But after that disappointment golf at the highest level became more difficult for the guy known as the "Big Easy". And at home life was also proving less than idyllic.
Els's daughter Samantha was joyously thriving with a curious English slant to her South African accent. But there was something different about her younger brother to the natural concern of his parents.
"Why is he not crawling? Why is he not walking? Why is he not looking me in the eye?" Els and his wife Liezl were asking themselves. Ben, it turned out, was autistic. What should have been a perfect family life had been turned upside down.
"Ben is 11 now and, you know, things happen," Els told BBC Sport as he sat alongside his wife in the Wentworth clubhouse. "You always think that everything is going to be fine, which it is today, but there was a little bit of a time that tested us.
"Golf is my passion but, as a father, family is always going to be number one. Life has taken quite a number of turns."
Liezl nodded in agreement: "Life throws everything at you and it's how you come through it that's important.
"When Ben was first diagnosed with autism it was, of course, a huge blow to the family because we were so uninformed. It is always the fear of the unknown that is so difficult.
"As we got ourselves round that and learned to adjust our lives with him it becomes easier every day and we find the joys in that. He makes us laugh every day."
Pivotal to this journey has been the family move to Florida. "At the time America was leaps and bounds ahead of the UK with their treatment of autism," Liezl said.
While switching the family home stateside yielded immediate family benefits it was a while before Els's golf sustained the full benefit. In 2010 he threw away a great chance to win a third US Open at Pebble Beach and his game slipped into decline.
Shorn of confidence his results suffered and by the spring of 2012 Els was not even eligible for the Masters, never mind a contender for the green jacket.
In golfing terms that was the lowest point but a dramatic high was not far away and it came at Royal Lytham with victory at last year's Open.
Adam Scott's collapse, bogeying the last four holes, coincided with Els's inspired finish and he was a major champion 10 years on from his last triumph at the highest level.
"We were complete basket cases, we were crying so much," Leizl recalled. Mrs Els was watching back at Wentworth which is now the summer rather than permanent residence.
"We didn't want Adam to lose it but we so wanted Ernie to win. It was such an emotional day. I was with his mum and my kids. We were screaming, phones were ringing all over the show, it was amazing.
"Golf puts you on top of the world in no time just as quickly as it can take it away from you," Liezl added.
It means Els will now return to the scene of his first Open victory as defending champion. "We are going back to Muirfield. Back in 2002 Liezl was heavily pregnant with Ben. I thought she was going to give birth on the 18th green the way things were going.
"We have basically grown up over the last 10 years and it's wonderful to be going back with Ben up and going and with the way his treatment is going, it's a revelation.
"We almost feel like the pressure is off playing golf into the future," said the two-time Open champion.
Els heads to Muirfield buoyed by his recent win at the BMW International in Munich. Endless practice sessions with Ben watching on enraptured by the sound of dad cracking drivers have been duly rewarded in every respect.
"The week where I played in Germany I knew the family were home in England and I knew they were watching the golf," Els said.
"I knew Liezl was telling Ben that dad likes to make birdies. So when I walked into the house he was saying 'he made birdies'. From Ben's perspective he loves it when the old man does something well."
Els will turn 44 in October. He says he knows time is against him but is equally aware he has good people behind him and "touch wood my body feels good".
In every respect his life has turned full circle since he last competed on the magnificent East Lothian links. "I cannot wait to get there," he said.
"Memories keep flooding back to me. That was an unbelievable tournament and I think we will have a great champion."
That will certainly be the case if it is Els's cap that is again sent flying in triumph. Spending time with Mr and Mrs Els you can't help sensing a realisation that he has become a man who already has it all.