The Open: Graeme McDowell's caddie plans for Muirfield
By Alvin McCaig
BBC Sport NI
Last updated on .From the section Golf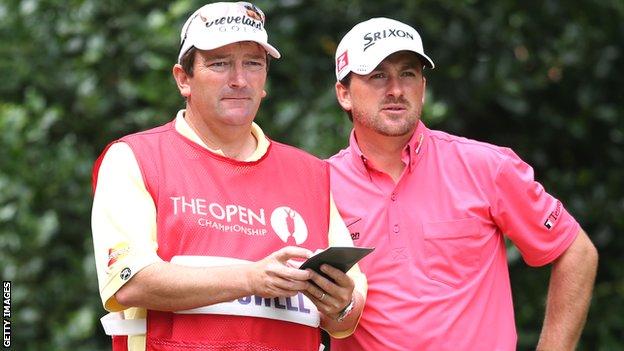 Back nine on Sunday and the contenders for the Claret Jug have more than the demanding East Lothian links to conquer.
Mental demons, fuelled by pulsing adrenalin, have so often crippled the most talented and are as dangerous as any pot bunker or deep gorse.
Enter the caddie at this time of crisis, a calming voice and presence, purveyor of wise words or stern, and maybe the difference between Open triumph and an opportunity lost.
Ken Comboy knows what it takes to get his man across the line at a major, for in 2010 he was on Graeme McDowell's bag when the amiable Northern Irishman won the US Open at Pebble Beach.
Twenty years of caddying have given Comboy, who has also worked for Thomas Bjorn, Andrew Coltart and Paul Casey, a knack for tone and timing.
"Every situation is different and I've had to judge when to tell a player to wise up, calm down or wake up," said the 40-year-old.
"If a player's not nervous when going for a major there's something wrong - coming down the stretch I'm a bit on edge, worried that I might give the wrong advice or make a mistake.
"It's about keeping a player on an even keel - they all lose sight of what is happening at times.
"But I'm lucky with Graeme, for his US Open win and Ryder Cup performances have shown that he thrives in the pressure of those final crucial holes."
The four-handicapper from Cheshire packed in his Manchester office job after 'Chubby' Chandler offered him the chance to be Irish player Eoghan O'Connell's caddie.
Comboy's current employer also hails from the Emerald Isle, though McDowell's trademark American twang has a mid-Atlantic feel.
It is the source of much ribbing from Comboy, who is fond of telling McDowell he's not Irish and that he won his national title at Pebble Beach.
The banter highlights the friendly relationship between the pair, and McDowell's success in recent years is a labour of love for Comboy.
There are drawbacks - being on tour for much of the year is not ideal when you are married with two children.
"Yes, it can be difficult because you don't have a normal life, including not seeing your family," added the Knutsford man.
"I've a Manchester United season ticket but I only see them seven or eight times a year and I don't play golf as much as I'd like.
"You can also get sacked at any time. There's no contract and you have no comeback, so it's a precarious career.
"But there are far more positives - I've got a box seat for top-level sport, with Graeme winning so often I get well paid and I only work for 28 to 30 weeks each year.
"I get to travel around the world and I've lived in a five-star manner for the last couple of years."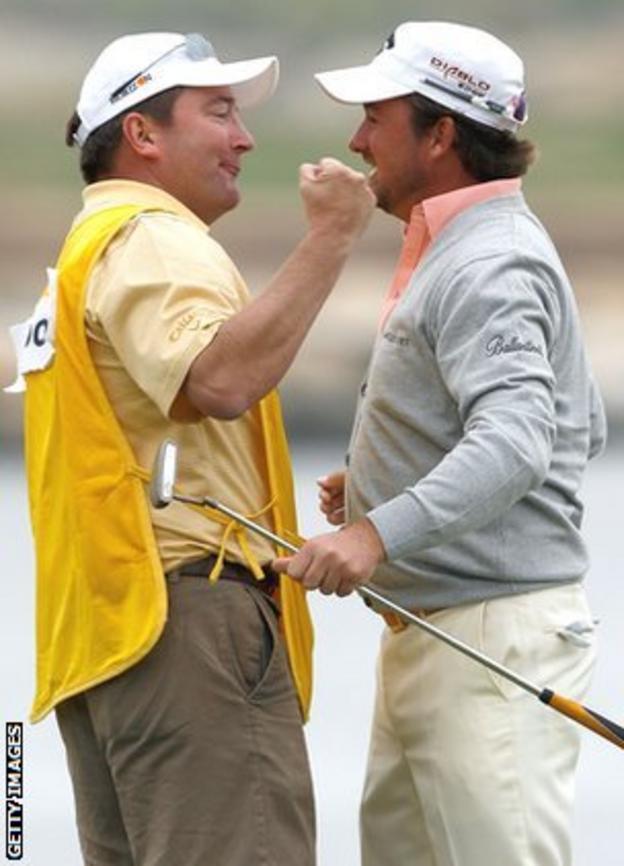 No longer are caddies seen as mere glorified skivvies, cleaners of clubs and replacers of divots.
Steve Williams, 'Bones' MacKay and Billy Foster have elevated the profile of caddies and illustrated their value in the modern game.
Williams has most famously been on the bag of world number one Tiger Woods and US Masters champion Adam Scott, Mackay works with three-time Masters winner Phil Mickelson and Foster teamed up with former world number one Lee Westwood.
Comboy's preparations for Muirfield started last week, with two days on the course with McDowell.
Yardages taken, driving lines and contours identified, any detail that might just give McDowell an edge over his rivals.
The Portrush player was back at Muirfield early this week, with more practice rounds giving Comboy the chance to pencil a few more lines in his notebook.
McDowell tees off on Thursday with Woods and Louis Oosthuizen, but before their afternoon start, Comboy will be at work.
Pin placements are provided but the caddie will walk to every green and register which side of the flag to target.
Revision completed, the test begins and after 18 holes he can rest, with a bit more knowledge gleaned and stored away.
McDowell has won three tournaments this year and is a player in form, but Comboy says it would be a surprise - albeit a pleasant one - if his man wins this week.
"Graeme and I will go through our usual pre-round routine and we're not happy if there's any deviation from it," he said.
"During the round my biggest fear is costing Graeme penalty strokes - kicking or standing on the ball, or like Miles Byrne, when he put too many clubs in Ian Woosnam's bag at the Open in 2001.
"I'm always checking the number of clubs in the bag, even beyond the point where it's too late to do anything about it.
"Muirfield demands accuracy off the tee, which suits Graeme, although there are 25 to 30 players who will be thinking they can win this week.
"You need a bit of luck as well as playing the right shots so I would be surprised if Graeme won, but pleasantly surprised."