The Open 2013: Sir Nick Faldo tells Rory McIlroy to focus
Last updated on .From the section Golf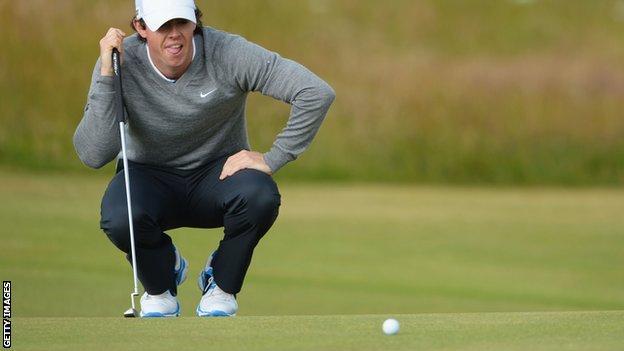 Sir Nick Faldo believes world number two Rory McIlroy needs to "concentrate on his golf" to regain his form.
"I actually think it's a lot going on in his mind," said six-time major winner Faldo ahead of the start of the Open at Muirfield on Thursday.
"You need 100% concentration, off the golf course, practising, as well."
He added: "The most ideal preparation I can think is to go to the club at nine in the morning, hit balls all day long, and leave at five. You have to do that.
"You have a 20-year window of opportunity as an athlete. Concentrate on golf, nothing else.
"When you retire (in your) 40s, 50s, hopefully you have another 40 years to enjoy it.
"Just concentrate on golf, nothing else. That's my only words of wisdom to Rory."
Meanwhile, Faldo is coming out of semi-retirement this week to play the Open at Muirfield - the scene of two of his three Open titles.
The Englishman admitted that this could be his swansong in an event he first played in 1976.
Although he hopes to emulate Tom Watson, who at 59 finished second at Turnberry in 2009, Faldo concedes he will be lucky to make the cut.
Faldo, 56 on Thursday, won at the Lothian links in 1987 and 1992.
He effectively retired in 2007 becoming a television pundit and promoting his Faldo Series foundation helping young golfers worldwide.
Despite returning to play the 2009 Open at Royal Birkdale and at St Andrews the following year, he failed to make the cut on either occasion and has not teed off in a major since then.
Muirfield, hosting the Open for the first time since 2002, was just too tempting a prospect for him to ignore, however.
"I think that's the number one reason why I'm here," he said after playing nine holes of practice on Monday morning.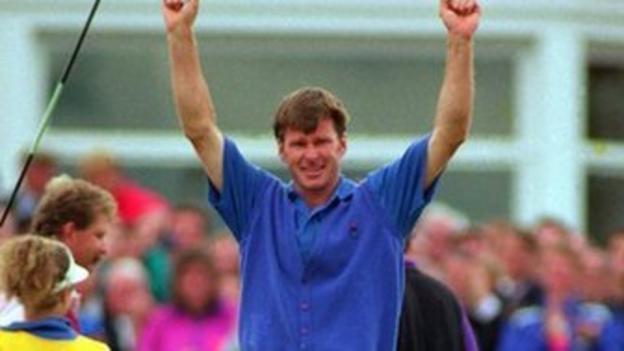 "As you know, I played St. Andrews three years ago and I really thought that was about it, I didn't enjoy that. I haven't played anything competitive at all.
"I've got a very special place here, the 18th green at Muirfield. I ended up thinking about that and that won in my heart and my mind. So that maybe sowed some seeds.
"And about two months ago I was at my gym at home and I thought at the time, you're just strong enough to have a go.
"It might be the last chance I get to walk with fellow Open champions. And so I said, OK, I'm going to go for it. And then the process has been really fun. I've actually enjoyed it."
Since then, Faldo has put in some tough physio work, talked to Justin Rose's sports psychologist and tried to get some of his old game back.
But he ruled out any suggestion that he could actually put himself in contention to win again along the lines of Watson and Greg Norman.
In 2009 at Turnberry, American legend Watson came within an eight-foot putt of pulling off what would have been one of the most remarkable triumphs in recent sporting history at the age of 59.
Norman had victory in his grasp a year earlier at Royal Birkdale only for the 53-year-old to be denied by a superb final back nine from Padraig Harrington.
For Faldo the goal is simply to play well and give himself a chance of making the cut on Friday as he plays in a golden oldies grouping including himself, Watson and Freddie Couples.
"I'm trying to get to know this golf course because it's like a main road out there, it's hard and fast," he said.
"But that would be quite an achievement if I could hover close to making the cut, I would have thought."