Todd Hamilton: A day in the life of an Open champion
Last updated on .From the section Golf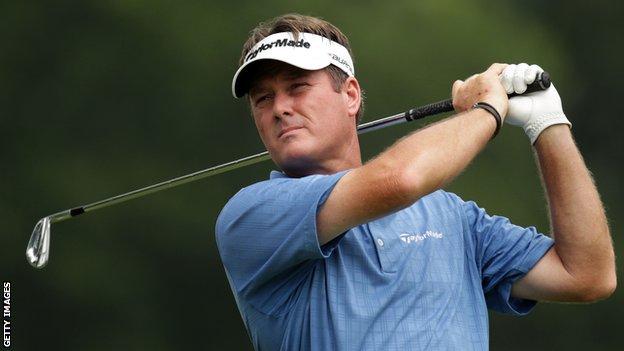 Ever wondered what a typical day is like for a player at the Open? How about not just any player but a former champion?
Hamilton, a top performer on the Japanese tour in the 90s, never reached the same heights again, and plays mainly on the second tier of the US circuit these days. Here's what he said:
"Being from the States, everyone loves French fries - chips as you call them. I don't eat a lot of fish, especially cooked the way you do here, but you've got to have fish and chips when you come over to the Open. I didn't get mushy peas, though, I think they may have been out. I'm not a big drinker but we'll go out and have a couple in a pub just to see what it's all about.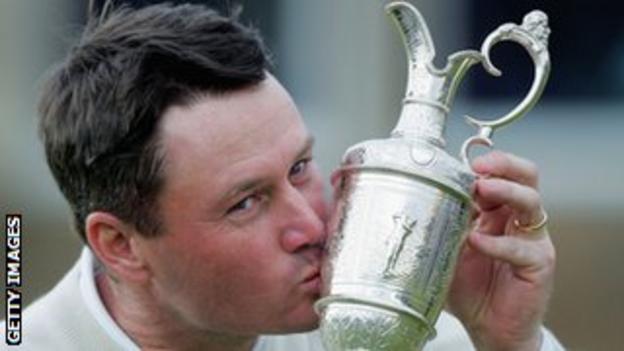 "It's great that in a lot of these towns everything is packed together and you just walk everywhere. St Andrews is the best example. I really enjoy that part. To me it's kind of a quaint feeling. It brings back a lot of memories of the small town I grew up in, Oquawka, Illinois. Where I live, now, just outside Dallas, you can't really get anywhere without driving.
"I don't get much attention these days but I don't mind at all. I'm not a person that likes to be in the limelight unless I've done something and I haven't done anything for a while. I'm probably more recognised over here than I am in my home country.
"We flew in on Monday and got to the course about 14:30 and played 18 holes. I wanted to stay up as long as I could, and I haven't played the course since 1992 so I couldn't remember anything about it.
"On Tuesday we woke up at 05:30 and a car picked us up for an 08:40 tee time. Over here it's easier to get up early as it gets light so early.
"I'm not a big breakfast eater, maybe just some energy bars, but if I have anything it'll be eggs and maybe some toast and bacon. Then I'll hit lunch pretty hard.
"I like to practice for an hour and a quarter or so before a round but it varies. I'll hit all the clubs, hit some high ones, low ones, then chip and putt a little bit. I don't like to rush it. I like to take it easy and let everything soak in.
"If it's a late tee time I'll sleep in or lie around and do the crossword. If I'm playing at home with friends we rarely go out before noon.
"The year I won I only slept for three or four hours, not because I was nervous but because I felt like I was playing well and I was anxious to get out there.
"I probably watched three or four hours of TV on the last morning which helped a lot. I saw guys putt from certain angles and kept that in the back of my mind.
"The key was I only went in two bunkers the whole week, I finished off holes well and didn't make any score higher than a bogey. When I made a bad shot it wasn't real bad.
"I still come here with hope. I'm getting on in years but if there is one tournament an older guy can win, it is this one.
"It takes a lot of knowledge, not only of the course itself but this style of golf.
"The guys from the States don't see the ball bounce like it does here. When you hit it in the fairway there it tends to stay in the fairway, or it stays within five or 10 yards of where it lands. Here that's not the case, it might run 50 yards. I've hit some three irons 270 yards. We don't see that at home.
"I grew up on a course that was wide open, it wasn't links, but there weren't trees and you had to bounce shots up to small circular greens. I like that kind of golf. I wouldn't want to do it every week because it's nerve wracking but every once in a while it's fun to do.
"The fans over here are very knowledgeable. Sometimes, just getting the ball on the green is a good shot. In the States, if you don't hit it to within five to 10ft everybody thinks you're a 10 handicapper.
"I'm staying in a hotel this week with my caddie. The year I won I rented a house with my wife, my mother and our three kids. I've also done B&B, here at Muirfield in 1992. I've covered every type of accommodation, except staying in a tent.
"I like that it stays light so late here and you can have a walk around the town and check things out. After eating I normally won't get to sleep until midnight. I'll play a game on my phone called Words with Friends. It's like scrabble. I'll play that with my wife or friends back home.
"There are a few differences to living in the States. We've got a lot of crappy TV in America but there are a lot of crappy channels to choose from. Here there are not many channels. No air-con in the room is another thing. Our room is very hot. We might have to go out and buy a fan.
"You guys have also got some phrases or words we don't have at home.
"If someone had said to me before, 'are you going to the chippy', I wouldn't have a clue. But when you said you saw me there I put two and two together. But some of the Scottish guys are hard to understand.
"When I went to St Andrews the year after my win in 2005, my equipment sponsors TaylorMade took me to the Old Course Hotel and presented me with a kilt. It was done in the Hamilton clan tartan. It looked fantastic, and I got the socks and, what do you call it, a sporran? That little bag to carry keys or whatever.
"I didn't know what to think of it at first but I put it on and it looks pretty good, though I got a lot of flak from the guys back home. I'd like to have the guts to come out here one day and play in it, but you'd have to guarantee me perfect weather. I think that might just outdo Ian Poulter for a day."