The Open 2013: Rory McIlroy will soon emerge from his slump

By Stephen Watson
BBC Sport Northern Ireland
Last updated on .From the section Golf4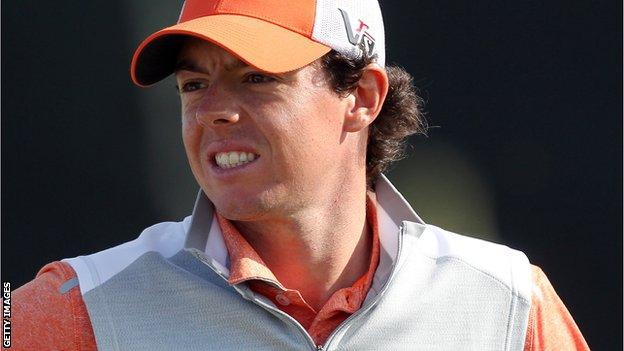 What's wrong with Rory?
If I had a pound for every time someone has asked me that question in the last few months I probably wouldn't need to enter my lottery numbers this week.
Everyone seems to have an opinion about Northern Ireland's biggest sporting star.
Apparently he needs to change his clubs, change his swing, change his ball or change his girlfriend.
He's not practising enough, not playing enough, not focusing enough or doesn't have enough patience. I have heard them all - many times.
Last November I watched Rory McIlroy complete a sensational 2012.
He lifted the Race to Dubai title and was crowned the year's best player on both sides of the Atlantic.
He had a second major championship under his belt and millions of dollars of prize money in the bank.
It had been an incredible finish to the season, and Rory told me the dreams he'd had as a young boy had all come true much quicker than he expected.
What he didn't see coming was that it would all unravel even faster.
Since signing a multi-million dollar deal with sports giant Nike in January this year, which included a complete change of clubs, he hasn't been able to register a win, or rediscover the form which made him world number one.
He's also in the middle of a split from his management company, and at last month's Irish Open he told me he felt "lost" after missing the halfway cut.
All this less than eight months after reaching the top of the golfing world.
For me, it's been unpleasant to watch such an exceptionally talented sportsman, whom I've got to know well since first meeting him about 10 years ago, lack so much confidence.
But this week I have seen a spring back in his step.
He's been practising hard at home in Monaco, and here at Muirfield, in his bid to win a major championship for the third year in a row.
Rory has certainly arrived in Scotland in a much more positive frame of mind, though he admits this will be an extremely difficult venue for any player trying to find their form because of the long, penal, brutal rough.
I chatted with him this week about his fears of his dip in form continuing.
He said he's not worried - at all. Many people may find that hard to fathom. But I, for one, believe him.
That's because on the last two occasions we've talked about the same subject, he's gone on to prove his point in some style.
First at the Masters in 2011 when, with heavy criticism ringing in his ears after blowing a four-shot final-round lead, he responded by winning his first major a matter of weeks later.
And last year, after missing the cut as defending US Open champion, he went on to produce a record-breaking second half of the season.
Let's remember Rory McIlroy is only 24 years old, that's 20 years younger than another of our major champions, Darren Clarke.
He has at least a couple of decades left to perform at the top of his game, and record many more memorable sporting moments for Northern Ireland.
So what's wrong with Rory? My answer every time is the same.
Give him time, give him space, give him a break and he'll bounce back to his best very soon.
It is, after all, just two majors since he won one. Only Rory knows how to fix it. Perhaps that might just happen this week.