The Open 2013: Is men-only Muirfield a major headache?

By Keir Murray
BBC Sport Scotland
Last updated on .From the section Golf640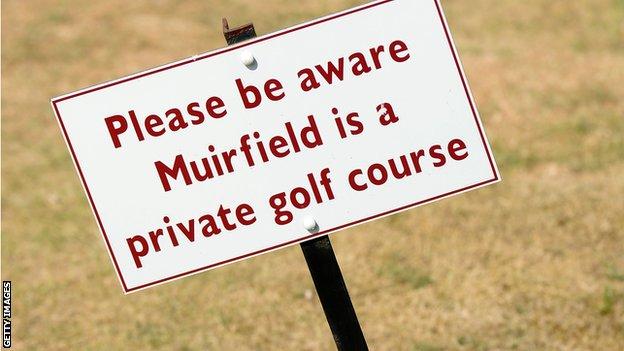 Female visitors to Muirfield for golf's 142nd Open Championship could be forgiven for treading warily this week.
Some might be excused for thinking golfing dinosaurs inhabit the East Lothian links, conjuring images of the odd stegosaurus in tartan trews lurking in the gorse.
Tradition versus gender equality has been the dominant issue in the build-up to this year's event, one of the sport's four majors.
That's because the Honourable Company of Edinburgh Golfers, to give Muirfield its proper name, does not allow women to become members. Women may play the course, but they cannot join the 269-year-old club.
Muirfield's single-sex stance has been too much for Alex Salmond, Scotland's First Minister and an ardent golf fan.
On Sunday he was one of the first to congratulate American Phil Mickelson on his Scottish Open triumph at Castle Stuart, near Inverness.
But Salmond - along with UK Sports Minister Hugh Robertson and Maria Miller, Minister for Women and Equalities - has refused an invitation to attend the Open, even though the event is being played only 20 miles from his Holyrood base in Edinburgh.
The First Minister said: "I don't think it helps the game to have the suggestion of bias against women and the greatest tournament on arguably the greatest links golf course [giving] this impression that ladies, women, should be second-class citizens."
Miller argues the game's governing body, the R&A, is sending out the wrong message by staging the tournament at Muirfield.
"Sports governing bodies should be doing all they can to promote equality and address the sexism that still exists in some quarters, not turning a blind eye to it," she said.
Across the Atlantic, the home of the US Masters, Augusta, admitted its first two female members in 2012 - former Secretary of State Condoleezza Rice and business executive Darla Moore.
What, then, is the issue at Muirfield? Firstly, it's worth pointing out it is not the only course permitted to host the Open that refuses membership to women.
Royal Troon on Scotland's west coast and Royal St George's in Kent are men-only, as is the Royal and Ancient Golf Club at St Andrews, which will host the British Women's Open next month.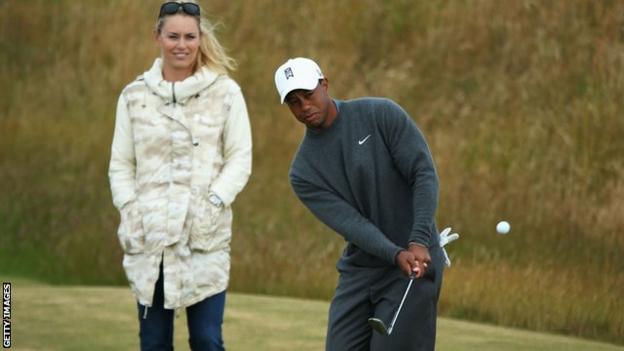 At Wednesday's media conference at Muirfield, R&A chief executive Peter Dawson tried to find a path through the rough.
"We do, I assure you, understand that this is divisive," he told a room of about 160 journalists, with women comprising about 5% of his audience.
"It's a subject we're finding increasingly difficult, to be honest. Single-sex clubs are in a very small minority in the UK. Half of them are women-only.
"They're perfectly legal. In our view they don't do anyone any harm and we think the right of freedom of association is important. We think they have no material adverse effect on participation."
Dawson admitted the R&A's "natural reaction" was to ignore the criticism of pressure groups and politicians because "we actually don't think they have very much substance".
But the chief executive added that the R&A was "not so insular" that it failed to understand "the potential damage that campaigns like this can do to the Open Championship".
For the R&A, this is not a moral issue, but a practical one. Dawson's mantra is that exposing millions of viewers, male and female, to the wonders of golf on such a beautiful course does the game immense good.
He hopes the public will be "inspired by what they see".
But at the start of the week, defending Open champion Ernie Els called Muirfield's policy "weird".
The South African added: "We've got presidents and prime ministers who are women. Should the Open be there? You know, it's a hard one."
On Tuesday, Tiger Woods, one of the favourites to lift the Claret Jug on Sunday, was asked if he felt that, morally, there was a difference between clubs that excluded people on the grounds of sex and those that did not admit members based on race.
"I don't make the policies here. I'm not a member so I'm not going to speak for the club," was his terse reply.
Dawson scoffed when asked about the moral difference between men-only and white-only clubs, describing it as "a ridiculous question".
He said: "There's a massive difference between racial discrimination, anti-Semitism, where sectors of society are downtrodden and treated very, very badly. To compare that with a men's golf club is frankly absurd. There's no comparison whatsoever.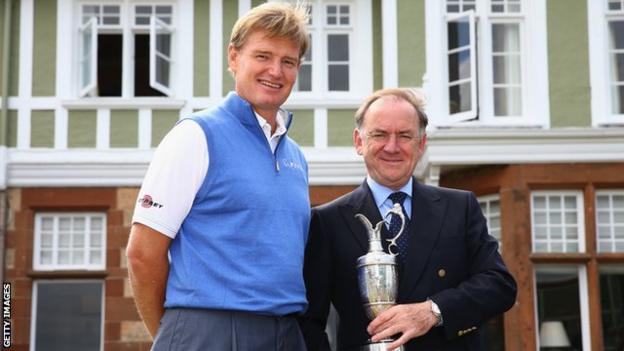 "We believe that membership policy is a matter for the clubs. It would be a hard push to push us off that position. We happen to believe that very strongly."
And a spokesman for Muirfield said: "We are disappointed that some individuals feel unable to attend this year's Open. As a club we conform to the Equality Act 2010 and any change in the membership would be for the members to decide.
"At this moment there are no plans to change the current membership status."
Under equality legislation, private associations such as Muirfield can restrict membership. Just as a Christian association can solely accept Christian members, a men's golf club does not have to allow women members.
But there does seem to be an anomaly in the law. On one hand, the Equality Act does not ban single-sex clubs, yet clubs with both male and female members are not allowed to discriminate on the basis of gender.
Additionally, while associations can limit membership on the basis of sex, religion, disability and even ethnic origin, they cannot reject people on the basis of colour.
Perhaps unsurprisingly, Muirfield's rules do not seem to sit well with professional women golfers, especially the younger ones. Charley Hull, 17, is one of the brightest prospects on the Ladies European Tour.
She describes Muirfield's men-only rule as "stupid".
"I don't think golf is just a men's sport," Hull told BBC Sport. "We're getting better as a sport though and I think times are changing. There are some girls who are really good players."
Former Tour professional and Solheim Cup captain Alison Nicholas, who won 18 titles during an illustrious career, argues that attitudes in UK golf lag behind those on the Continent.
"There are still some barriers we need to break down in this country," she said. "We need to take the model from Europe and include families and females at every club if possible, because that mentality is out of date."
Earlier this month, the Women's Sport and Fitness Foundation conducted a survey of more than 2,000 adult respondents, who were asked for their views on the Open being held at courses that permitted only male members.
Some 49% believed that such a move was damaging to the reputation of the game, with the figure rising to 55% among regular golfers.
Dawson argues there is no malice in the men-only policy but says the R&A will have "a good look at what people are saying and try to take a view about all of this and find the most sensible way forward".
"Gender discrimination" is sure to remain a hot topic at this year's Open though.