The Open 2013: R&A's Dawson admits 'men-only' club concerns
Last updated on .From the section Golf416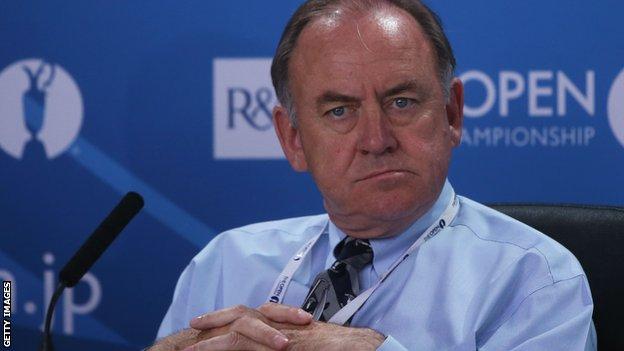 Golf chief Peter Dawson says the issue of men-only policies at golf clubs is becoming "increasingly difficult".
Muirfield, which hosts the Open this week, does not allow women to join.
Dawson, chief executive of the R&A, said: "Obviously the whole issue of gender and single-sex clubs has been pretty much beaten to death recently.
"We do, I assure you, understand this is a divisive issue. It's a subject we're finding increasingly difficult, to be honest."
He added: "In recent months we've been at great pains to try to explain some of the facts about this matter. Single-sex clubs are in a very small minority in the UK. Half of them are women only, half of them are men only. They're perfectly legal."
Asked what was the difference between a male-only club and one that allowed whites only, Dawson said: "There's a massive difference between racial discrimination, anti-Semitism, where sectors of society are downtrodden and treated very badly."
He continued: "But on the Saturday morning when the guy gets up or the lady gets up and out of the marital bed, if you like, and goes off and plays golf with his chums and comes back in the afternoon, that's not on any kind of par with racial discrimination or anti-Semitism or any of these things."
Open venues Royal St Georges and Troon also bar women members but in 2012 the Augusta National Club, which hosts the Masters in the United States every year, allowed women to join for the first time in its 80-year history.
The R&A has confirmed that of the approximately 3,000 courses in the UK, only about 1% of them have a single sex membership policy.
Slightly more than half of that figure is taken up by women-only clubs.
When quizzed on the subject of single-sex clubs, Northern Ireland's world number two Rory McIlroy said: "I just don't think it's something that is a real issue anymore.
"Obviously it's an issue in some golf clubs. But in terms of life in general, I think men and women are treated equally for the most part these days. And that's the way it should be."