The Open 2013: R&A's Peter Dawson defends qualifying route
By Ged Scott
BBC Sport at Muirfield
Last updated on .From the section Golf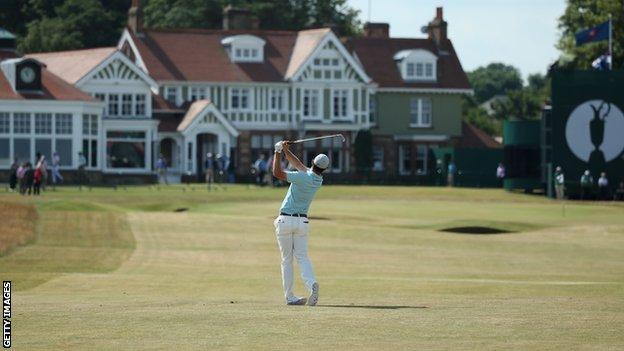 It says much for the quality of England's top golfers that there are four strong contenders tipped to be on the yellow leaderboards at Muirfield this week.
It is equally encouraging to see four English amateurs in the field, Wiltshire's Ben Stow, Yorkshire's Matt Fitzpatrick, Devonian Jimmy Mullen and this year's Amateur champion Garrick Porteous.
"It's great for the amateur game that so many of us have qualified," said 19-year-old Mullen. "Ian Poulter was slagging the amateur game off on Twitter the other day.
"Maybe he wishes he hadn't said that now," he told BBC Radio Devon.
But, while Mullen, who plays his golf at Royal North Devon, can be proud of his achievement in firing two matching three-under 68s to win Local Final Qualifying at North Berwick and book his place a fortnight ago, it does beg the question of where the rest of the English contingent are.
Aside from the elite players and the hopeful amateurs hoping to prove the stars of the future, there are only nine other Englishmen here among the Honourable Company of Edinburgh Golfers - in total, just 17.
Maybe there is a case to count Shrewsbury-born Sandy Lyle as an Englishman, having been raised at Hawkstone Park and played as an amateur under the auspices of the Shropshire & Herefordshire Golf Union.
But, having been sired by a proudly Scottish father, he has always played under the Scottish flag - and, in reality, lest the late Alex Lyle turn in his grave, there would be as much chance of Sandy claiming he was English as, say, American youngster Harris English.
There simply has to be an acceptance that the reason for there being so few English professionals at this year's Open is down to the changes in the qualification process made by the R&A nine years ago that made it easier for foreign golfers to qualify.
"It's a reflection on how golf has grown globally," admits R&A chief executive Peter Dawson. "The international spread of the field across 27 countries, into Asia, into Africa, into South America and Australasia has been very considerable.
"We pride ourselves on being the most international major and we want to continue that way.
"It's for English and British golfers, by and large, to get up there with the rest of them.
"We'd like to see more home players but I think our qualification system is such that it gives everyone a fair chance, wherever they come from."
Rather than have to visit Britain the weekend before the Open, to try and make it in through Final Qualifying, as was the case for many years, the R&A now have five qualifying events for golfers on the various tours around the world.
Three came through International Final Qualifying in Australasia back in late January, another four booked their place a month later in Asia, followed by three more a week later from Africa.
Eight more, including one US-based Englishman Brian Davis, came through the American qualifying on 20 May, then nine places were up for grabs at the European Qualifying at Sunningdale on 24 June.
"I didn't realise we were so few and far between," said Staffordshire's David Lynn, at 47, currently England's fifth highest world-ranked golfer.
Lynn qualified as a result of his second-placed finish at the USPGA behind Rory McIlroy at Kiawah Island last August, which catapulted him into the world's top 50. And the 39-year-old European Tour stalwart now finds himself playing only his second Open.
"There are so many opportunities round the world to get in now," he said. "That could be why so many Brits don't make it through.
"But certainly there are plenty of guys on the European Tour who are good players, who should be here."