The Open 2013: Sir Nick Faldo's 'happy' birthday at Muirfield
By Rob Hodgetts
BBC Sport at Muirfield
Last updated on .From the section Golf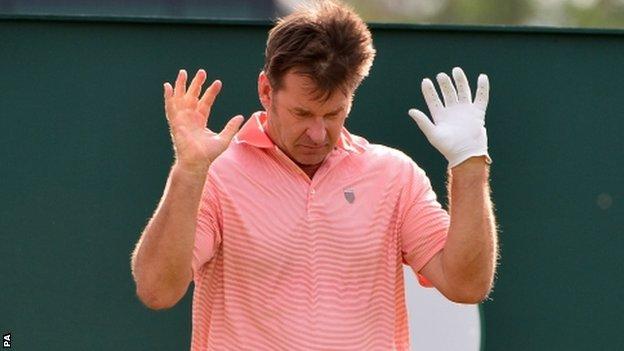 Sir Nick Faldo enjoyed his 56th birthday despite carding a 79 on his return to the Open at Muirfield.
England's three-time champion has not played in the event since 2010 after entering semi-retirement, but could not resist the lure of Muirfield, where he won the Open in 1987 and 1992.
Faldo spends most of his time as a TV golf analyst in the United States or as a figurehead for his Faldo Series junior circuit.
But he was flushed with nostalgia as he joined five-time champion Tom Watson and fellow American veteran Fred Couples on the first tee.
"Seriously, that was the best view of the day," he said. "When I looked down the first and saw the hill and Gullane and the stands and everything. The crowd was four deep, which is pretty darn cool. That was the moment of the day for me."
Faldo admitted to being nervous as he prepared to tee off having played very little competitive golf recently.
"I thought I did a good job of coping with it," he said. "You start thinking about that and trying to put it off but you can't when you're walking to the first tee. So I was delighted with the way I nailed it down there."
Faldo says he has enjoyed preparing for the Open, working on his swing again, having rehab on an old shoulder problem and talking with Justin Rose's sports psychologist Gio Valiante.
The six-time major champion, whose swing is shorter and more restricted than in his pomp, struggled mostly with his short game and putting, for which he uses a long-handled putter anchored to his left arm.
He began with two bogeys, but a birdie at the third seemed to settle him as he reached the turn in 38. He confessed to running out of steam over the back nine and came home in 41.
Asked if it was a happy birthday, he replied: "Given my most minimal practice and preparation in the history of the Open, probably."
He added: "I was pleased with the way I hit some shots. I did all right. The long swings were pretty darn good. I hit only one really bad shot - a bad swing on the 13th when I pulled a six iron left."
Faldo admitted to having flashbacks from past Opens at Muirfield but said he got most of his reminiscing out of the way in the practice rounds, and poring over old yardage books with former caddie Fanny Sunesson.
"You get more time in practice rounds to stand on spots and say, 'I hit it from here'," he said.
Faldo ended with a stunning nine-iron shot from the bunker short of the 18th green to set up a closing par after catching the fairway trap with his drive, but admitted he was not focused on breaking 80.
"I'm not worried about that," he said. "That was a hell of a bunker shot, wasn't it? Did you see Tom even acknowledge that one. A bit of class, he said. That made my day.
"No, I'm here to walk and enjoy. That's what I've got to remember as well."
Faldo, who is 13 shots off the lead gong into Friday's round, refused to rule out playing more often but admitted he was unlikely to compete in the Open again until St Andrews, where he won his second Claret Jug, when it returns to its spiritual home in 2015.