Open 2013: Ian Poulter & Phil Mickelson criticise Muirfield set-up
By Rob Hodgetts
BBC Sport in Muirfield
Last updated on .From the section Golf159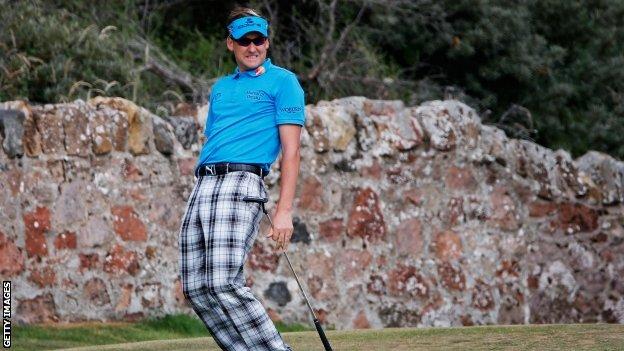 Ian Poulter and Phil Mickelson have criticised Open organisers for making Muirfield almost "unplayable".
The Scottish links, already firm from the recent warm spell, was playing even faster in the hot sun and drying wind of Thursday's first round.
Poulter, who carded a one-over 72, said some of the pin positions were a "joke" and the 18th needed a "windmill and a clown face", like a crazy golf course.
Mickelson hopes organisers "let go of their ego" after he shot a 69.
Peter Dawson, chief executive of the R&A who are responsible for hosting the Open, said the course was difficult but not impossible, while veteran BBC commentator Peter Alliss said Poulter's comments were "childish".
"It's not what anybody wants to hear," said Alliss. "I think they are very foolish to express their views like that. They all talk about links golf and how wonderful it is to come here and play on the course.
"Mickelson went round in 69 and is very much in the hunt and Poulter is only one over. You could say it is better to criticise when you have made a good score than it is when you have done a bad score.
"Poulter's remarks are just childish. You can't say stuff about windmills and clown's faces. It's just ridiculous. I never heard Jack Nicklaus or Arnold Palmer come out with comments like that.
"A lot of others give up before they even get going. It's a PhD not an O-level."
Ryder Cup team-mate Lee Westwood laughed off Poulter's comments, telling the BBC: "He's always moaning, you can't pay too much attention to him."
Mickelson, among the morning starters with Poulter, signed for a two-under-par round and hoped the R&A would make the course set-up "reasonable" on Friday.
Dawson responded: "We're conscious of player comments and have taken note as we plan how to set up the greens.
"I do understand some players get frustrated. Ian Poulter bogeyed four of the last five holes - he was bound to get frustrated. It's a very testing, tough Open championship. It is far from unplayable."
Four-time major winner Mickelson claimed the later starters would face an impossible task because of the conditions.
"I got very lucky to play early today because as the day wore on and we got to the back nine, about a third of every green started to die and became brown," said the American, who is yet to win the Open but was second in 2011 and won last week's Scottish Open at Castle Stuart, another links course.
"The pins were very edgy too, on slopes. The guys that played early had a huge, huge break because even without any wind here it's beyond difficult."
Speaking before the tournament, England's Tony Jacklin, the 1969 Open champion, said the key was to be patient and deal with adversity.
"You can get the worst of the weather or the best of it," he told BBC Sport. "Many championships have been won and lost like that. You have to accept your lot."
American veteran Mark O'Meara, the 1998 champion, denied conditions were unfair after returning a 67 in the afternoon to finish as one of only 20 players to card an under-par score.
"You have to be cautious on the greens and be aggressive, but not too aggressive," he said.
"I don't think the pin positions are unfair. If the wind had got up to 30mph then fair enough, but the wind wasn't blowing that hard. I've played in 25-plus Open championships and I've seen conditions far worse."