The Open 2013: Grant Forrest thanks American Mark O'Meara

By Keir Murray
BBC Sport Scotland at Muirfield
Last updated on .From the section Golf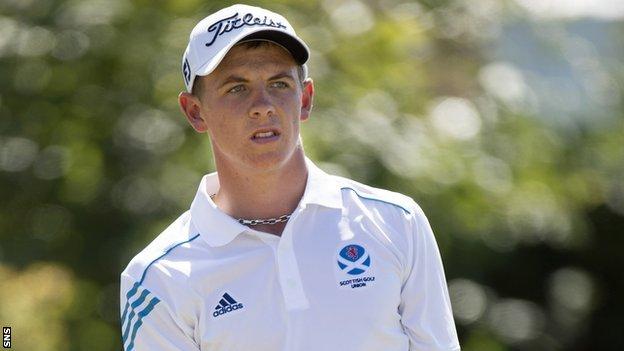 Scottish amateur champion Grant Forrest thanked his playing partners Marcus Fraser and Mark O'Meara for easing his nerves on his Open debut.
The 20-year-old from Craigielaw hit a round of 73 to keep alive his hopes of making the cut at Muirfield.
"My playing partners made it really enjoyable and made me feel comfortable out there," he said.
"Mark started talking to me as soon as we were off the first tee. I managed to play some good shots."
American O'Meara was in superb form in the outward nine, taking just 31 strokes, and adding 36 in the back nine to tuck in behind his countryman Zach Johnson, who carded a fabulous five-under par 66.
The 1998 Open winner gave the young Scot a few hearty slaps on the back as they walked off the 18th green and offered a few words of encouragement.
Forrest continued: "He said 'way to hang in there, good fight," because I was four over after 14.
"It can be daunting playing the Open for the first time and it can make a big difference who you are playing with.
"If they shoo you out the way it can make you feel really uncomfortable."
Forrest stayed at his family home only four miles from Muirfield but admitted the excitement was such he had managed just a few hours of unbroken sleep.
Reflecting on his opening round, he said: "I had a great time, though it was really tough out there.
"But I definitely would have taken a 73 at the start of the day.
"I was pretty nervous but it was not as bad as I thought it was going to be.
"I think a lot of the nerves come out in the practice rounds when you are playing with big names as well.
"Coming here, with all the crowds and the grandstands, it's a bit different from what I'm used to."
Forrest, who came through the tournament's qualifying event in Dunbar, shot a bogey five at the first hole but recovered with three pars and a birdie to be level after five holes.
And he showed similar resilience when he followed a double-bogey at the par-four sixth with two pars and a birdie for a 37 for the front nine.
Describing his efforts at the first hole, Forrest said: "I hit it right off the tee and actually ended up on the path.
"I missed the green to the left which was a no-no this morning with that pin position [tight on the left, close to a bunker] but I played a great chip to within six feet."
He expressed satisfaction at his birdie at the 450-yard 15th, where he knocked a seven-iron second shot to within 15ft and used his putter once from there.
"That got a bit of momentum back because I had made a few bogies," he said.
"I went on to birdie 16 as well, then three-putted from the back of the green on 17 for a par.
"I thought I'd hit a good first putt but the greens are so fast that it ran 20ft past.
"It's been a while since I've seen a course this fast and firm.
"You just have to hit good shots out there. Sometimes they stay good and sometimes you are unlucky."
Forrest takes to the course again on Friday at 07:05 BST and he has his fingers crossed that the early tee-off time will work to his advantage.
"Hopefully, there will be a bit of moisture in the greens and they might play a bit easier," he said.