The Open 2013: What's wrong with Rory McIlroy?
By Rob Hodgetts
BBC Sport at Muirfield
Last updated on .From the section Golf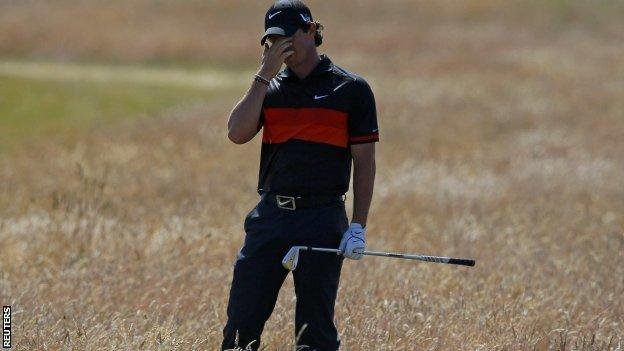 Rory, just what is the story? The Northern Irishman has everything he could ever want at the age of 24. Except, that is, a golf game currently to compete at the highest level.
At the start of the week, McIlroy said the slump was "no big deal". On Thursday, he admitted he felt "unconscious" on the golf course and had made "brain dead" decisions. On Friday, he spoke with more perspective and even hinted at light at the end of the tunnel. But his first missed cut at the Open was the latest in a catalogue of disappointments and false dawns.
McIlroy, lest we forget, strolled to his first major title by eight shots in the 2011 US Open, breaking a bunch of scoring records along the way. And he backed it up with another record eight-shot win at the US PGA last summer. He ended the year as the top money earner on both sides of the Atlantic and the world number one.
So what has happened, and how does he fix it?
First things, first. What did we expect to happen? Did we think he would win by a distance every time he teed it up?
"Nobody's good enough to turn that kind of stuff on every week," England's two-time major winner Tony Jacklin told BBC Northern Ireland.
The background to the struggles is well publicised. He switched to a new brand of club and ball in a mega deal in January and has taken time to adjust, particularly with the driver. He is undergoing a difficult split from his management company. And he has a high-profile girlfriend - former women's tennis number one Caroline Wozniacki - with all the pressures that brings, one of which is commuting between houses in Monaco and Florida.
McIlroy has been groomed to be a superstar since he was a kid and so far it has all come easily. For the first time in his career, he is finding it tough. The bounce of the boy has been replaced by the melancholy of the man.
"He's very young, it's a whole new world opened up in the last few years and it's going to take time to get adjusted," added Jacklin. "Being under the microscope like that is not easy. He's a human being, first and foremost. I don't think there is anything wrong with Rory McIlroy that a little time won't take care of."
After his first-round 79 at Muirfield, McIlroy fronted up to the media to explain what was going on. And the answer was, he didn't know. If he could, maybe he could fix it.
"It's something I've never experienced before. It's a very alien feeling," he said.
McIlroy returned an improved 75 on Friday, but the frustration still gnawed at him and he clutched his cap over his face at times. A mock fist-pump when a putt finally dropped on the 17th helped to lift the gloom. But a lack of confidence is self-perpetuating and the pressure of struggling so publicly must accelerate that.
McIlroy's long-time coach Michael Bannon said they were working very hard behind the scenes, on basics such as alignment and posture and trying to iron out a little habit of sometimes taking the club back too far "inside". But nothing drastic, he said. McIlroy has apparently now got to grips with the irons, and the new driver he had built at Nike in London recently is a vast improvement.
"He's playing great in practice," Bannon told BBC Sport. "It's just when he gets out on the course. His course management is the problem, along with his putting. He just needs to play more."
Renowned coach David Leadbetter, who helped Nick Faldo rebuild his swing and go onto win six majors, agreed there was no glaring technical issue.
"I don't think it's a technical thing, to be honest," he told BBC Sport.
"I love his golf swing, it's a very free-flowing motion. It doesn't look any different to when he is playing at his best. You can pick him up and find things, but you can always find things, it doesn't matter who you are.
"He does at times get the club, as we call it in the trade, 'trapped' on the inside and hits a few hooks, but it's more of an attitudinal thing rather than a physical thing. Once he has worked things out in his mind and is relaxed and confident we'll see Rory back. He's a wonderfully talented young player and you just don't lose your talent overnight. He just needs to get his head right."
Faldo, who has known McIlroy since he was 12, said earlier in the week he just needs to concentrate on golf and ignore all the other distractions. McIlroy was stung by the perception he wasn't putting in the hard yards, but concedes he has got his scheduling wrong this year and should have played more at the start of the season. Competitive rounds and shooting scores is now his goal.
"I think schedule hasn't been quite right. Swing hasn't been quite right. And a combination of those has led to, I guess, sloppy play, just because of not being sharp enough," said McIlroy, who is looking forward to a run of six events in eight weeks including the defence of his US PGA title at Oak Hill in August.
Faldo, who felt he was being criticised for what he called "grandfatherly advice" to McIlroy, added on Thursday that his travails were just part of life's ups and downs. "That's golf," he said. "You're either on a spiral going up, or you're on a spiral going down."
McIlroy has had a minor blip before, when he missed three cuts in a row in 2012. But then he went on his stellar end-of-season run. And he's not the only one. Luke Donald, with whom he duelled for the world number one spot for much of last year, shot 80 in the first round and also missed the cut at Muirfield, as did new US Open champion Justin Rose.
Tiger Woods, who regained his world number one spot from McIlroy earlier this year, has also endured lean spells, not only after his scandal, but when he was making swing changes.
The 14-time major champion has always stressed a player should be judged over a career, and points to Jack Nicklaus, who won his record 18th major at the age of 46.
"Golf is a mystery, we can never quite work it out," said Leadbetter.
"It's about momentum. Something changes, you feel good about it and get a good train of thought going and it can change on a sixpence."
McIlroy's mojo is missing, but in a few weeks this could all be a distant memory.
"Sometimes this game can feel further away than it actually is," he said.