The Open 2013: Richie Ramsay angry despite making cut

By Keir Murray at Muirfield
BBC Sport Scotland
Last updated on .From the section Golf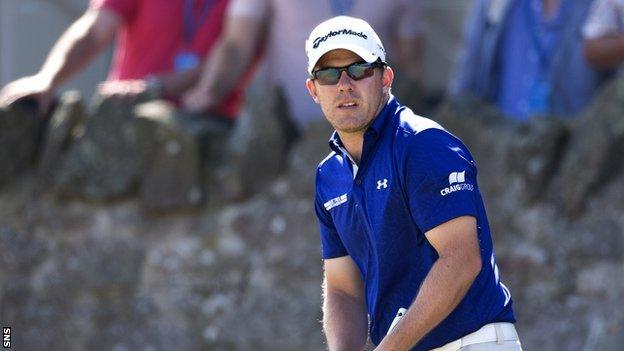 Richie Ramsay has been hitting golf balls since he was three.
In the 27 years that have followed, he has surely dreamed many times of lifting the Claret Jug.
However, the Aberdonian spoke as if emerging from a nightmare after his second-round 74 at the Open at Muirfield.
When combined with his five-over par 76 on Thursday, it left him eight-over par and seemingly one shot beyond the cut.
"I played better today. I hit some really good shots out there but the finish just about killed me a bit. It's incredibly disappointing," remarked Ramsay, speaking some seven hours before the cut moved in his favour.
"I played nice off the tee and my putting was OK, though I had six three-putts in two rounds.
"It was just my short game and my mental discipline."
Ramsay was out in one under after nine holes but perhaps it was the five bogeys in the final six holes of Friday's round that left him in a downbeat frame of mind when he spoke to reporters.
Injury has contributed to a loss of form. His world ranking has slipped from 57th at the end of last year to 98th before the Open began.
He is 74th in the European Tour's Race To Dubai rankings when last year he proved his talent by reaching 26th spot.
Part of his aggravation is that he feels he is playing very well in practice, but not when the main event begins.
He continued: "I played fine; it's just I could go out there and play next week and I could have the exact same shots and I'll just hit it to 5ft.
"But in the Open I hit it to 4ft and three putt.
"It has nothing to do with the golf course and nothing to do with my swing: it's to do with myself.
"I need to be more dialled-in to where I want to hit it. Coming out here I played a practice round and I shot four or five under.
"Bear in mind, if it wasn't the Open it wouldn't be nearly as hard. But I've lost every shot near the flag and that's where I've got to stand up and hit it.
"It sounds easy but it's a lot harder to do when you're out there."
A two-time European Tour winner, Ramsay has won £221,000 in prize money from 11 events this year.
However, the Stirling University graduate frets that he must improve aspects of his game if he is to retain that earning potential, or improve on it.
"It's not like if you perform poorly at your jobs, you've always got next year," he told journalists.
"Out here you don't. It's not like that. If you screw up, then you won't have next year.
"I've been injured since the middle of May, I can't go out and play a lot of golf because my hip will start to hurt.
"I know what I need to do but I can't do it because I won't be able to play at all, so it's tough."
Ramsay's angst was caused, he explained, by being too cautious in his approach play to the greens.
"The problem is I'm not grinding it out when I need to on the holes, like 15 and 16," he said of two of the holes where he dropped shots.
"At times I was far too defensive, playing 30ft below the pin.
"It's easy in hindsight but they are stupid shots. You end up in the front bunker when you need to rip it out to get on to the middle of the green.
"I focus too much on things like missing shots, giving away shots and playing too safe.
"I don't have that when I play a practice round. It's a problem.
"When I played aggressive, I played better. If you are going to do something you've got to give it a try."
After six impressive years as a professional, Ramsay thought he would have this weekend free to pinpoint where he can make improvements to his game.
"I kind of learned a lot in the last two days but I learned a lot more before the Open," he said.
"I just need to sit down and work out where I want to be, work out what my problems are, create a plan and work hard on it.
"I shouldn't even be saying that, I should be thinking about shooting 65.
"It's just a typical Scottish mindset, it's negative rubbish.
"Surround yourself with negative people, you're going to get negative comments. That's probably the gist of it."
Perhaps an afternoon of positive thinking helped effect the single-shot drop to the cut.
Ramsay now has two more rounds to satisfy his desire for perfection.