The Open 2013: Rory McIlroy 'closer to fixing game'
Last updated on .From the section Golf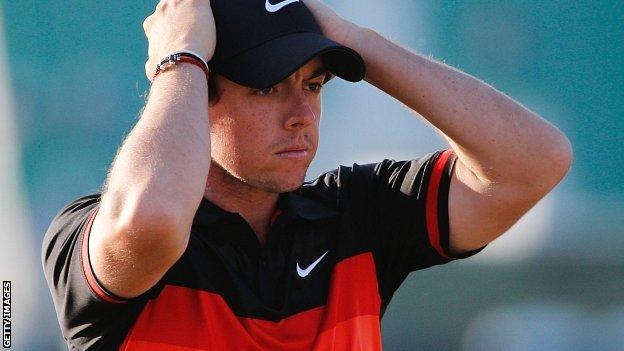 Northern Ireland's Rory McIlroy said he felt closer to working out what was wrong with his game despite missing the cut at the Open.
McIlroy, the world number two, carded a second-round 75 at Muirfield to finish 12 over par and tied for 117th.
"I guess I have a clearer picture of what I need to work on to put things right," said the 24-year-old.
"Sometimes this game can feel further away than it is and yesterday it couldn't have felt much further away."
It was the first time McIlroy, a two-time major winner, had missed the cut at the Open and continued a poor run of form this year.
McIlroy is yet to win a tournament this season after switching to Nike equipment in a multi-million dollar deal in January.
After his first-round 79, he admitted he was struggling with the mental side of his game but was encouraged by some of his shot-making on Friday.
"I decided that I was going to hit driver every hole that I could, because that's going to be a big factor the next few weeks," said McIlroy.
"And I actually drove the ball pretty well and ended up playing the last 11 holes under par.
"That was encouraging, but obviously I'm disappointed to be going home.
"I needed to get off to a fast start to have any chance of being here for the weekend.
"I was five over through seven holes so that didn't really happen, but after that I just decided to, I guess, practice a little bit for the next few weeks coming up."
England's US Open champion Justin Rose also missed the cut and conceded he had been broken by the brutal conditions at Muirfield.
"I had high hopes but I didn't really have the expectations," said Rose, who bowed out on 10 over par.
"Preparation has been unusual this week, coming in here after two weeks off.
"The decision was made hoping I'd be playing well and I'd be mentally recharged for the weekend but this golf course proved too much for me this week.
"I didn't have my game and you needed to be right on top of things playing this type of golf course. This was brutally tough. I just wasn't quite up to the task."