The Open: Chris Wood riled by putting problems at Murifield
By Ged Scott
BBC Sport at Muirfield
Last updated on .From the section Golf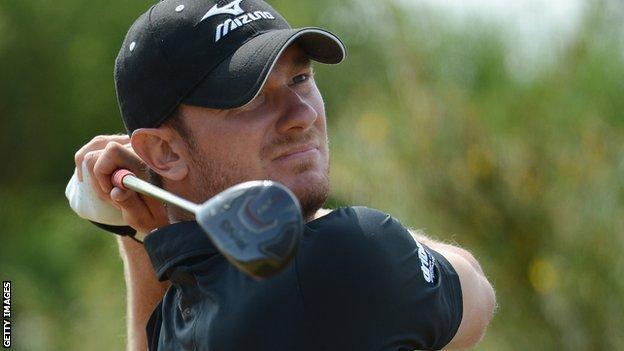 Bristol's Chris Wood promised to change his putter after suffering a nightmare on the greens at Muirfield for the third day running.
"I had a putt for birdie at almost every green and didn't hole one," he told BBC Sport after his third 75.
"The first thing I'm going to do now is get a new putter."
The worst of Wood's problems came at the short 16th where, from not much more than 12 feet, he four-putted, twice lipping out.
"It's probably the worst I've putted for a long time," added the Long Ashton player, who was joint third at Turnberry in 2009.
"My short game in general has been horrendous. I've dropped 15 shots on or round the green all week and I'm 12 over.
"I played three or four under golf today, not four over, so I'm pretty hacked off. Every time I miss the green I've got no confidence that I'm going to get up and down.
"I'm going to get specked for a new putter as I can't look at the one I'm using tomorrow, then I'm going to get my putting coach down during the week.
"I'm now looking ahead to the World Golf Championships [WGC] at Akron and the US PGA the following week, and I'll not do a thing but chip and putt all week."
Wood was convinced that he would miss the cut when he finished his second round on Friday afternoon, having shot a second successive 75 to stand eight over for the championship.
Having sneaked into the weekend, he then appeared to make the most of his reprieve, with a first birdie of the day at the long fifth, after four pars.
And, although he then dropped one at six, he also birdied the ninth to go out in one-under 35.
But three back-nine bogeys - at 10, 14 and 15 - followed by the double bogey five at the 16th left him still near the back of the field.
"At least I'm still here though," he said.
"When I finished on Friday afternoon, there were still four or five hours of play and I didn't think I had a chance of making the cut. But it just shows how tough the last four or five holes are, especially when it's firm.
"The cut mark just kept dropping to what eventually turned out to be exactly 70 and ties."