The Open 2013: Richie Ramsay & Paul Lawrie in jovial mood

By Keir Murray
BBC Sport Scotland at Muirfield
Last updated on .From the section Golf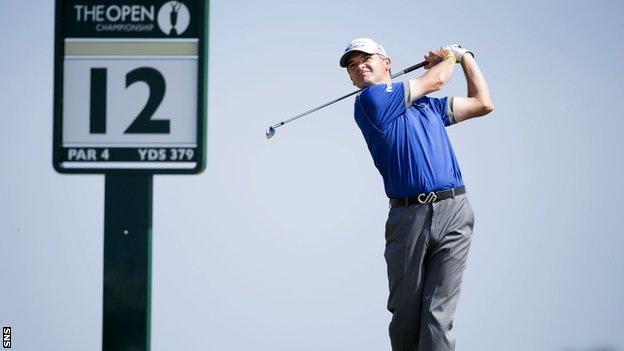 Richie Ramsay and Paul Lawrie carried a carefree air as they spoke of their late reprieve in the 2013 Open.
The Aberdonian pair had returned home on Friday assuming their two-day tallies of eight over par had ended their participation.
But when the cut was announced that evening, they had to return hastily to Muirfield.
"I got in. I got lucky, very lucky," said Ramsay, who shot 72 on Saturday.
The 30-year-old was a downbeat figure after his second round but was thrilled to learn that he would, after all, be required to tee off on Saturday and Sunday.
"I went home and I was trying not to check my phone too often," he said, before offering an amusing take on the benefits of his hotel arrangements in East Lothian, 20 miles from Edinburgh.
"You have to have accommodation for the tournament for seven nights," he said.
"Being Scottish, I didn't really want to have it for the full seven nights, but now I get the use of it.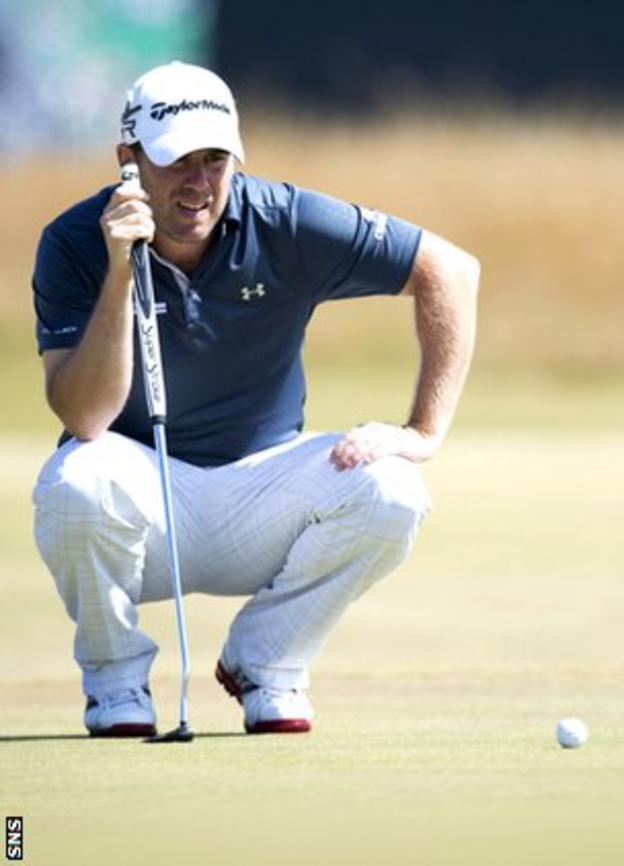 "I was as pleased about that as I was to still be in the tournament."
His willingness to joke came after his one-over-par third round, played beside Thongchai Jaidee of Thailand, in which he scored four birdies and five bogeys.
He added: "It's really hard out there. I thought I played really good today.
"The guys who are teeing off after 13:00 BST have a hell of a job on their hands.
"There are certain spots [on the green] you can't miss it or you are going to have 20-foot putts coming back.
"It's just a really tough test of your abilities. They have done a great job with that.
"It's not quite defensive golf but you need to be almost passive aggressive.
"I hit two six irons yesterday and two five irons off the tee just to get it on the fairway.
"I hit a seven iron on the 12th today. There's a bunker at 245 yards. I hit it and I thought, 'am I going to bounce it into the bunker?'
"Some of the fairways are just like runways, like 12 and 15.
"You've just got to be so patient out there. If you're not, it will chew you up and spit you out."
Lawrie, 44, drove the 150 miles home to Aberdeen and admitted that it was the first time he had left a tournament before the cut had been announced.
"I didn't think I had a chance at seven over, never mind eight, so we packed up," he said after signing for Saturday's one-under 70, to follow his rounds of 81 and 69.
"I got back home about 17:00 BST yesterday, walked the dog, got some dinner and put new grips on some irons I'm testing.
"We had been watching it on the TV and the iPad, so when we heard the news I packed a bag and got back here at 23:15."
Of his performance on round three, the 1999 Open winner said: "Thursday was the worst I had played for a long time and on Friday I played beautiful.
"Today was the same, though I struggled a bit with the putting; it should have been quite a few less today.
"The course is magnificent."
Lawrie goes into Sunday's final round on seven-over par.