The Open 2013: Players critical of slow-play officiating
Last updated on .From the section Golf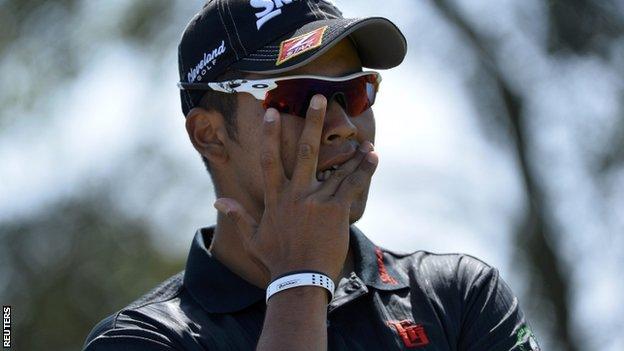 Graeme McDowell was one of a group of players to criticise Open officials for issuing warnings over slow play during the third round.
Several pairings, including Tiger Woods and Lee Westwood, were put on the clock, while Japan's Hideki Matsuyama was penalised a stroke for slow play.
Northern Ireland's 2010 US Open champion McDowell said: "Surely we're allowed to get off to a bad start?"
"There's a difference between slow play and bad play."
He added: "They told us on the fourth tee that we were two and a half minutes behind schedule.
"All right. Fine, we got off to a slow start. We were cutting it very close."
As both McDowell and playing partner Gregory Bourdy walked on to the fifth tee they were told they were four and a half minutes out of position and were going to be put on the clock.
"So they put us on the clock for one hole," he continued. "And we got to the next tee and they said you're off the clock now.
"So it's like make up your minds, guys. That's not really slow play regulations. It was a tough start. And on the clock on the fifth hole is a bit out of order really."
Matsuyama was the only player to be penalised. He came to the par-five 17th at one over for the championship but as the 21-year-old prepared to take his second shot he was punished for slow play with his group having been put on the clock at the 15th.
The Japanese golfer's playing partner Johnson Wagner of the United States said: "I was mad when they put us on the clock - the group behind us was a hole behind,.
"I love the R&A [tournament organisers] and this championship, but it took me a while to sign my scorecard. I kind of refused to sign it because I thought he got a raw deal."
A statement from the tournament organisers explained: "Hideki Matsuyama's group was put on the clock on the 15th hole as they were 15 minutes over the scheduled time and were out of position on the group ahead.
"His first bad time was recorded on his first putt on the 15th at one minute 12 seconds. The group was still out of position.
"His second bad time was on his second shot to the 17th hole which was two minutes 12 seconds. That resulted in a one-shot penalty being applied to his score on the 17th hole, which became six."
Sergio Garcia, who is three over for the championship, was twice put on the clock for slow play along with his partner Padraig Harrington.
"I felt like I was rushing quite a lot," he said.
"I even played out of position when it wasn't my turn, probably two or three times, to try to catch up."