The Open 2013: Tiger Woods confident of winning majors
Last updated on .From the section Golf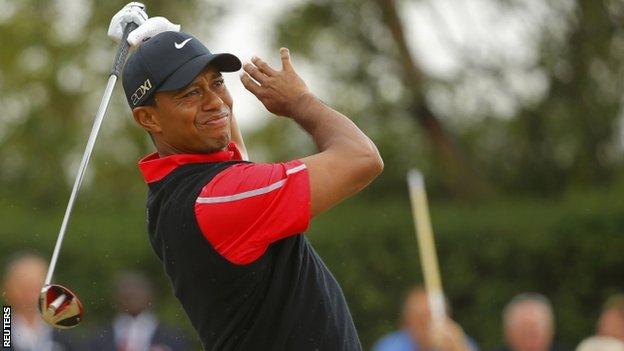 Tiger Woods has not given up hope of winning a 15th major despite a sixth-place finish at the Open in Muirfield.
He began the final day two strokes off the lead but carded a three-over-par 74, ending the day five shots
Woods said: "It's not like I've lost my card and am not playing here. I just haven't done it yet."
The American was expected to challenge on the final day, even though he has never won a major when trailing going into the fourth round.
But he dropped a shot on the par-four first and failed to threaten from there on in, accumulating six bogeys and three birdies in total on a disappointing day in East Lothian.
"I've won 14 and in that spell where I haven't won since Torrey Pines (US Open), I've been in there," added Woods, a three-time Open champion.
"I've won some tournaments in that stretch and I've been in probably about half the majors on the back nine on Sunday with a chance to win during that stretch.
"Hopefully it will be different in a few weeks (at the US PGA)."
Woods, who has experienced five tumultuous years since winning the US Open with an injured knee, from injuries to personal scandal, remains four titles short of equalling Jack Nicklaus's major haul.
He admitted Mickelson's remarkable five-under-par 66 final round eased the blow of failure.
"Well, if it does feel any better, it is that Phil got to three (under)," said Woods.
"If he had posted one under it would have been a different story. I think a lot of us would be a little more ticked than we are now, but he posted three - that's a hell of a number.
"I really had a hard time and left myself a couple of long putts early on when it was really blowing, and left them way short and didn't make those putts.
"I didn't really play that poorly. I hit a couple of bad shots at 10, 11, that was about it, and at three.
"But other than that I really hit the ball well today. I just couldn't ever get the pace of these things."