The Open 2013: Phil Mickelson finds missing link at Muirfield
By Rob Hodgetts
BBC Sport at Muirfield
Last updated on .From the section Golf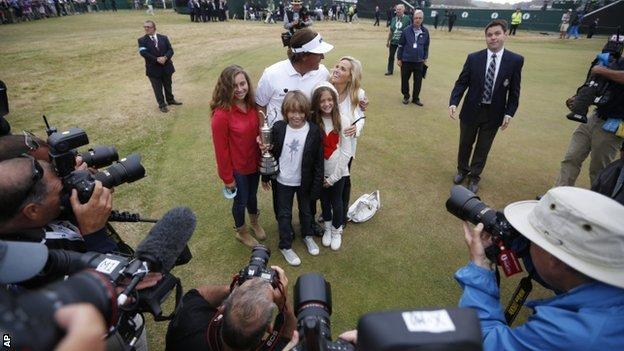 Phil Mickelson used to hate links golf. He loves it now.
Mickelson played what he describes as "probably the best round of my career" as he came from five shots behind to lift the Claret Jug at Muirfield.
The 43-year-old has now won the Open, three Masters (2004, 2006 and 2010), and the 2005 US PGA, and only has the US Open left to complete the set.
But while that tournament remains his nemesis, with a record six runner-up spots, including behind Justin Rose at Merion last month, it is the Open that Mickelson has found the hardest to win.
The Californian's cavalier style, favouring aggressive and flamboyant shots over more conservative options, is more suited to receptive US-style courses than the bump-and-grind of a fast-running links. Mickelson's preference for high, big-spinning "flop" shots has always been deemed "unsuitable" in a links environment.
Mickelson himself said earlier in the week he had a "hate-love" relationship with links golf. He first made its acquaintance, and liked it, in the 1991 amateur Walker Cup at Portmarnock in Ireland, but found the exacting nature of an Open Championship set-up too alien to his skills and says he always wondered if he would ever win one.
But he has slowly taught himself the nuances, beginning with a third place at Troon in 2004, and he surprised many with a second-place finish behind Darren Clarke in filthy weather at Royal St George's two years ago.
He missed the cut in the Open 12 months ago, but last week, Mickelson won the Scottish Open in firm conditions on the links of Castle Stuart near Inverness, suggesting the education was nearly complete.
And on an absorbing and dizzying Sunday at Muirfield, Mickelson birdied four of the last six holes for a remarkable three-shot victory.
"The US Open has been elusive but this is the championship that has been the hardest to get," said Mickelson, who sat with one hand on the famous old trophy throughout his news conference afterwards.
Only five men - Ben Hogan, Gene Sarazen, Gary Player, Jack Nicklaus and Tiger Woods - have completed a modern career Grand Slam of winning the Masters, US Open, Open and US PGA titles at some stage. Nicklaus and Woods have won the full set three times apiece.
And Mickelson is aware that if he can finally win the US Open, he will be remembered as one of golf's legendary figures.
"Those five players are the greats of the game," said Mickelson. "You look at them with a different light. To complete the career Grand Slam, that's the sign of the complete great player."
Mickelson joins Seve Ballesteros, Peter Thomson, Byron Nelson, JH Taylor and James Braid as a five-time major winner.
Born in San Diego, California, he was an amateur prodigy - a right-hander in everything but golf - who won the first PGA Tour event he entered at the age of 20 in 1991 while still in the unpaid ranks.
Known as "Lefty", Mickelson is hugely popular with fans around the world for his willingness to engage, his dazzling smile and his courteous manner. Intelligent, with a wry humour, a Mickelson news conference is always entertaining. There were those early on in his career who thought this was all an act, but the critics have faded over the years. His style of play, which has cost him a few titles along the way, also goes down well. A "Mickelson roar" at Augusta is like no other.
But despite having it all - sublime talent, a tight-knit family, more cash than you can spend in a lifetime - Mickelson has experienced the ups and downs of real life. In 2009, his wife Amy was diagnosed with breast cancer and two months later his mother was found to have the same condition. Both are in remission. Mickelson himself suffers from psoriatic arthritis, a chronic inflammatory disease that has to be managed by medication.
Amy Mickelson and the couple's three children watched outside the famous Muirfield clubhouse as Mickelson sank a stunning birdie three at the last to virtually seal the title, before welling up and hugging caddie Jim "Bones" Mackay, a fixture since his earliest days on tour.
"It's a day that I will always cherish," said Mickelson.
It's a far cry from Merion, where Mickelson led by one going into the final round but saw Rose nick the title he wanted more than any other.
Mickelson said he was so deflated at yet another US Open loss that he thought he might have a hard time recovering. But he took solace from the fact he was playing well enough to be in contention, and perhaps unwittingly offered Lee Westwood a crumb of comfort at Muirfield.
"You have to be resilient in this game because losing is a big part of it," he said when recalling his Merion misery.
England's Westwood led by two going into the final day and was on the cusp of achieving a major breakthrough at the age of 40 to cap an illustrious career.
But his challenge faltered, and he had to accept an eighth top-three finish in a major in the last five years. One of the best chances was when Westwood was leading going into the final round of the 2010 Masters. But he was eclipsed by none other than Mickelson, who conjured some trademark magic, including an outrageous shot from the trees on the 13th, to secure a third Green Jacket.
Westwood exuded a relaxed air all week at Muirfield, and said on Saturday night it would not be the end of the world if he never won a major. But another near miss must grate, despite his denial.
"I'm not too disappointed," he said. "I don't really get disappointed with golf any more."
And what of Tiger Woods? Two behind Westwood at the start of the day, the world number one just couldn't find a spark and finished five adrift.
The American has been stranded on 14 majors for five years and leaves Scotland still wondering when, or indeed, if that next major victory will come. The US PGA at Oak Hill in three weeks' time might reveal the answer.
For Mickelson, the party will only just be dying down.