The Open 2013: Lee Westwood and Tiger Woods wilt on final day

By Iain Carter
BBC golf correspondent
Last updated on .From the section Golf217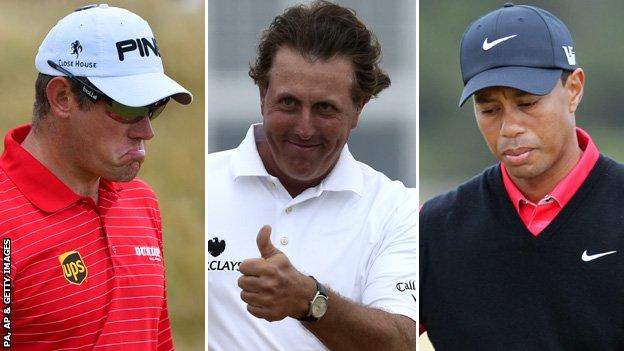 Sixty-two majors and counting.
The wait continues for Lee Westwood following his failure to capitalise on the two-stroke lead he held going into the final round at Muirfield.
Phil Mickelson seized the moment in a way that remains beyond the Englishman, who has managed eight top-three finishes in majors since 2008.
Such an array of high finishes in the tournaments that matter is the hallmark of an outstanding golfer. There is no doubt that Westwood falls into that category.
But the question remains; will he ever win a major? Can he take that extra step that would make him capable of claiming one of golf's four biggest titles?
At this Open, he slept on a third-round lead at a major for the second time. On the previous occasion, the 2010 Masters, it was Mickelson who also prevailed with outstanding back-nine golf.
That defeat three years ago owed much to the left-hander's brilliance but Westwood only managed a closing 71. It was a day when many players proved capable of going much lower.
The Englishman played better golf at Augusta to claim his third-round lead. Tee to green, he was immaculate - which was never the case at the Open.
Westwood's stats at Muirfield were completely out of character. His traditional ball striking strength became his weakness. His usual fallibility on the greens was his mainstay. No one putted better over the first three days.
Despite getting to three under par - two clear of the field - after 54 holes, Westwood languished in 62nd place in the Greens in Regulation figures. Rarely does that level of inaccuracy yield a major champion.
This wasn't a choke. The fact is that the 40-year-old wasn't playing well enough at Muirfield to win.
Eventually the course caught up with him and when decent putts early in the final round - the kind that had been dropping earlier in the week - started to only shave the hole, the pressure on his long game became intolerable.
Muirfield's bunkers were tough. Heavy double loads of sand made for plugged lies. Westwood found this to his cost at the seventh, eighth and ninth holes.
This was the sequence of holes that cost him the chance of applying scoreboard pressure on the rest of the field, Mickelson included.
The American champion had the freedom to launch his astonishing birdie barrage over the closing half-dozen holes.
Such aggressive golf is also easier to achieve when you are not protecting a lead and already have four majors in your pocket.
For Westwood, there was the pressure of being a home favourite and a leader who carries a fair amount of scar tissue from previous near misses. He shot 75 when a 70 would have been enough for victory.
Yes, he knows how to win. He has 40 tournaments worldwide to his name but none of them would count among the top 10 titles a player most wants on their CV.
He hasn't won a World Golf Championships event, a Players Championship or a PGA at Wentworth.
As well as allowing that 2010 Masters to slip from his grasp, he bogeyed three of the last four holes at Turnberry in the 2009 Open and missed out on a play-off by a single stroke.
This was the one that really got away. Westwood accepts he should have won that Open but he also left short a 15-footer to make the play-off for the 2008 US Open.
All of these opportunities are testament to his skill as a golfer but his failure to turn any of them into a trophy makes it ever harder the next time a chance comes around.
On the plus side, it would appear he still has time on his side. Mickelson is the third successive 40-something Open champion, following Ernie Els (2012) and Darren Clarke (2011).
Westwood is fit and his age isn't yet a barrier. He also seems to have found something with the help of Ian Baker-Finch to banish previous uncertainties on the greens.
He is in the early stages of working with Sean Foley to iron out the kinks in his swing. The coach, who looks after Woods and US Open champion Justin Rose, is also capable of getting inside his players' heads.
Foley's infectious positivity is just what Westwood needs as he seeks to bounce back from his Muirfield disappointment.
Not that the swing guru's work carries any guarantees and Woods seems to have lost the ability to trust his whole game.
Once more, the world number one tried to win an Open without using a driver. Crucially, he didn't feel able to trust the club on the penultimate hole of his third round.
Battling into the wind on that par five, he couldn't carry the cross bunkers with two three woods and it cost him a bogey that helped Westwood to his two-stroke lead.
That was where Woods lost his Open. He has forgotten the art of winning majors. Jack Nicklaus' record of 18 looks beyond him.
Just one major would do for Westwood right now. The Englishman displayed such nerve in that third round with Woods that many were convinced he was ready to win.
He wasn't, though, because his game wasn't up to the stresses of the final day.
It might happen one day - but we are no nearer knowing when the wait will end.