Cheyenne Woods wants to be more than Tiger's niece
By Neil Johnston
BBC Sport
Last updated on .From the section Golf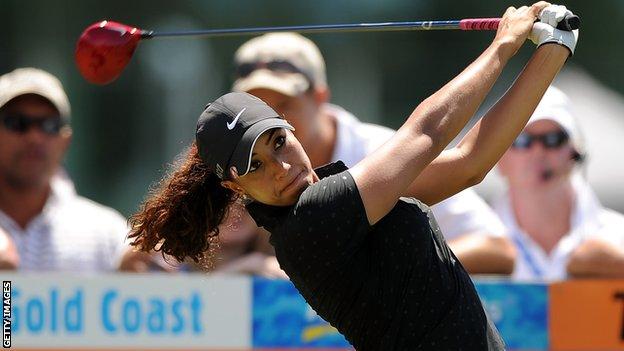 Cheyenne Woods has set her sights on making a major impact as she aims to prove her uncle is not the only family member who excels on the golf course.
Cheyenne, niece of 14-time major winner Tiger, says she is honoured to be related to the men's world number one.
But she is intent on making a name for herself, starting by qualifying for the British Open in early August.
"It's an honour to have the last name Woods but I want to be known for my own golf," the 23-year-old told BBC Sport.
The American is embarking on her first full season as a professional as part of the Ladies European Tour.
But she has a big few days ahead of her if she is to make the Open and will attempt to clinch a place at St Andrews at the Ladies European Masters at Buckinghamshire Golf Club between 26-28 July.
If she is unsuccessful then she faces an anxious day in final qualifying at Kingsbarns Golf Club on 29 July.
"It will take some time for some people to get used to the fact that I am Tiger Woods's niece and I'm playing professionally now," she admitted.
"I am always reminded of it but I'm so used to it."
As both lead busy schedules, Cheyenne sees little of her uncle but he is never far away from her thoughts.
"The one piece of advice he has always given me is to trust my ability," she said.
"That's been huge for me just for my confidence on the course.
"We're both extremely busy but he keeps up with events - especially with me playing in Europe.
"He's aware I'm out here and doing my thing on tour. Maybe if I qualify for the Open then I'll get a tip or two from him.
"But if I ever need something I know I can always reach out to him."