Open 2013: Will there be more to come from Muirfield hero Mullen?
Last updated on .From the section Golf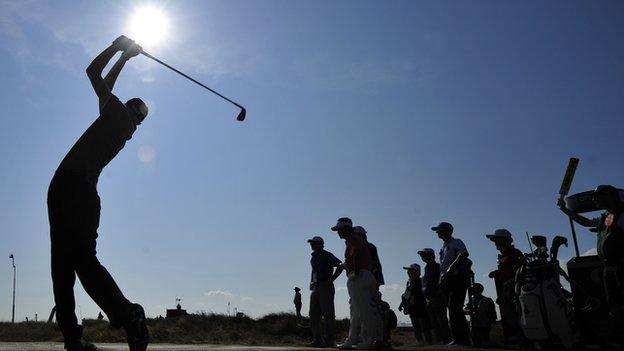 Muirfield 2013 may be best remembered more for the winner, Phil Mickelson, than the young man who had the locker right next to him in the 'M' section of the changing room.
But teenager Jimmy Mullen harbours ambitions of one day lifting the Claret Jug himself.
In the end, the 19-year-old from Royal North Devon did not join Mickelson for the traditional prize giving Open ceremony to hail 'the champion golfer of the year' on Muirfield's final green, because he finished second to fellow English teenager Matt Fitzpatrick in the private weekend duel to be crowned the Open's leading amateur.
But anyone who watched him both play and talk his way around the sun-baked fairways of the Honourable Company of Edinburgh Golfers, roared on by his small army of Jimmy-wigged followers every time he holed one of his week's haul of 13 birdies, will have been left in no doubt that the youngster has every reason to be one of life's dreamers.
On his own newly recreated personal website, the skinny, sandy-haired, 6ft 2in Devon teenager with what seems like a 12-inch waist has committed himself to two simple rules in life...
1. Never give up on your dream.
2. Never forget Rule 1.
Even before he teed off on Thursday, the Bideford boy was talking a good game in response to a Twitter remark from Ryder Cup hero Ian Poulter in June about American-bred English youngster Sam Horsfield.
Poulter suggested that the 16-year-old Horsfield, who shot a 61 in an American event that month, "would embarrass every English amateur in the world by a mile".
Having proved to be one of four English amateurs - along with Fitzpatrick, Wiltshire's Ben Stow and amateur champion Garrick Porteous - to qualify for Muirfield, Mullen did not waste his chance of a platform to reply.
"It's great for the amateur game that so many of us have qualified," Mullen told BBC Radio Devon.
"Ian Poulter was slagging the amateur game off on Twitter. Maybe he wishes he hadn't said that now."
Mullen matched his words with deeds when he then shot a level-par first round of 71, outscoring Poulter by a stroke, while agreeing with him that some of the pin positions had been a bit "silly".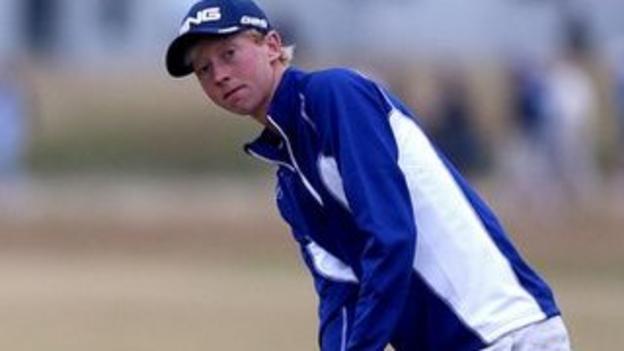 "I don't want to jinx myself but, if I play similarly tomorrow, I've got a good chance," he said.
Even when he faded away with a seven-over 78, Mullen was not done.
"I was thinking that, if I could put two decent rounds together, I might still have a chance of the Claret Jug," he admitted, in retrospect, after falling further away with a 75 in his third round."
But, in the end, despite the advantage of having played such a lot of amateur golf during his upbringing, he had cause to be disappointed with himself for simply not performing well enough when it mattered.
"We play such a lot of links golf as amateurs, at places like Royal Lytham, Royal St George's, Royal Cinque Ports, Prince's, I thought that was going to be such an advantage.
"But I played so badly that I was never going to do anything. I hit it everywhere off the tee."
Mullen now knows, however, just what he has to do to make the grade.
His Scottish father Hughie, who started him off with plastic clubs at the age of three, recalls that Mullen was five when he played his first competition at another nearby Devon course, Torrington, scoring three Stapleford points.
And boyhood friend Sean Downing, who used to play with him at Royal North Devon, high above the Bristol Channel at Westward Ho, is not at all surprised at his progress.
"He knew that he wanted to make it from an early age," said Downing. "That was his thing in life. He had that drive to go and do it.
"We used to go down in the summer after school. We'd get dropped off and play from half past three until it got dark, then, in the summer holidays, we'd get dropped off in the morning and spend the whole day there.
"Jimmy was down there religiously. That's the reason he's gone on and made it."
But the man who still most believes in Mullen is Iain Parker, the head professional at his club, and still his coach.
"He's a beanpole, with the heart of a lion," said Parker. "Nothing surprises him.
"If you had 11 guys with Jimmy's spirit playing football for England, they would win the World Cup every time."
Mullen adds: "I'm definitely going to stay amateur for now. But I've picked up a lot of tips this week, from the likes of KJ Choi and Freddie Couples.
"And, when I do turn pro, in a couple of years' time maybe, then we'll see what happens."