Inbee Park bids to make history in Women's British Open

By Iain Carter
BBC golf correspondent
Last updated on .From the section Golf34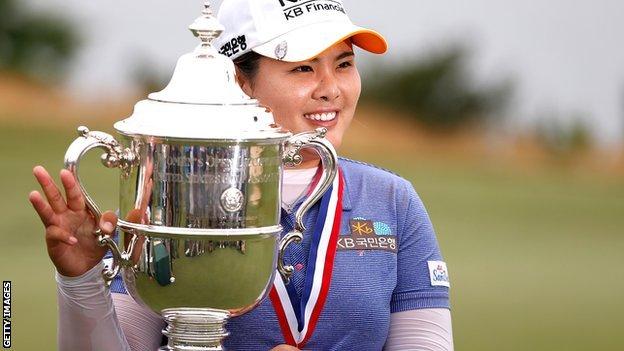 While it seems each men's major produces a different winner, the contrast couldn't be greater in the women's game where Inbee Park may make history this week.
The 25-year-old from Seoul heads to St Andrews in Scotland knowing victory in the Women's British Open would make her the first player, male or female, to win four professional majors in the same year.
Tiger Woods held the quartet of men's majors simultaneously, but the sequence began when he won the US Open in 2000. He completed the "Tiger Slam" at the following year's Masters.
Park has collected a remarkable six victories already in 2013, claiming the second major of her career when she won the Kraft Nabisco title in April.
Then she overcame Scotland's Catriona Matthew in a play-off to win the LPGA Championship before a four-stroke victory in the US Open.
"Not many golfers get that kind of opportunity, winning three majors and going for a calendar Grand Slam in a British Open," Park said.
"And at such a great golf course and such a historical golf course. I think I'm just very lucky to have that kind of opportunity. I think I should be very appreciative where I'm positioned."
By winning the year's first three majors, Park has already matched the feat of the great Babe Zaharias in 1950. In those days that was enough to be considered a women's Grand Slam.
The irony is that if Park were to win an unprecedented fourth major in a row this week, it wouldn't actually constitute a "Slam", following the decision to accord major status to the Evian Masters in September.
There is clearly a sound business reason for the move because it helps secure valuable sponsorship going forward. But Park's feats this year highlight the perils of meddling with history.
A victory over the Old Course for the South Korean to complete a Grand Slam is a golfing scenario that can't be bettered - except that there will now be one more major to go.
Leave that aside, though. Park is making a substantial claim to be the world's pre-eminent sportswoman and has an outstanding chance of claiming a fourth successive major.
She was second at last year's British Open at Hoylake and finished 11th in 2007 when the championship was first staged at the home of golf.
Park's low-ball flight will give her a distinct advantage along with her know-how in securing the game's biggest titles. Her greatest handicap will be dealing with the pressure of the occasion.
"Putting my name into the history of golf... I mean, all of Korea is watching me and they are very proud of me," she acknowledged.
"It just feels very awkward to me at the moment. I'm trying to get used to the attention. Trying to get used to the pressure, I think I've had very good practice at the US Women's Open playing under pressure.
"I felt a little bit of pressure there but I handled it very well, so that gave me a lot of confidence coming into the British Open.
"It still feels really awkward seeing my face on the TV everywhere, seeing my name in newspapers every other day," Park said.
Staging the British Open at St Andrews is an inspired move for the women's game. The 2007 event was a huge success and it puts golf back on course after the controversy surrounding men-only Muirfield, the venue for this year's Open Championship.
The only downside is that the quirky nature of the Old Course accentuates the effects of slow play. Last time the event was at St Andrews they failed to complete the first two rounds on schedule.
Referees must be hot on the issue this week and take a lead from the R&A who ensured a decent pace of play in the Open at Muirfield.
If only a similar line had been taken with Bernhard Langer in the Senior's Open, a fifth day might not have been needed.
This week, though, it is all about the women. The home fans will be keen to see a second British Open title for the brilliant Matthew, who is by some way Britain's most under-rated and under-appreciated sportswoman.
Perhaps it will take the mum-of-two from North Berwick to avenge her LPGA Championship play-off defeat to Park for her to at last gain due recognition.
Not that she need worry - if that were to happen Matthew would be denying the global game an astonishing piece of history.
Park admitted: "I didn't really think about doing a calendar Grand Slam in my career in golf ever. It's something that I never dreamed of achieving, to the point where I thought it was impossible.
"It would be doing something that is impossible, I think. But I put myself in a very close position to be achieving that goal."
St Andrews has seen many a golfing story down the years; this week might provide one that is more special than most.