US PGA Championship 2013: Shaun Micheel back at Oak Hill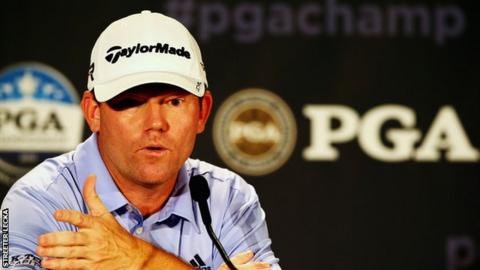 US PGA Championship
Venue:

Oak Hill Country Club, Rochester, New York

Dates:

8-11 August

Coverage:

Updates on BBC Radio 5 live on Thursday & Friday; Live from 21:00 BST on 5 live sports extra on Saturday; Live from 21:00 BST on 5 Live on Sunday; daily live text commentary on the BBC Sport website
Shaun Micheel stunned the golfing world 10 years ago when he won the US PGA, but the burdens associated with being a major winner have been hard to bear ever since.
So much so that the American says he would even consider swapping his Oak Hill title for a more consistent run of performances during the decade which has followed.
Micheel was ranked 169 in the world when, after eight winless seasons, he burst into the spotlight at the upstate New York course in 2003.
The 44-year-old from Memphis, who sits outside the world's top 1,000 ranked players, plays most of his golf these days on the Web.com Tour, the second tier of the professional game in the United States.
On Thursday, however, he will return to the scene of his greatest triumph, and line up once again alongside the sport's elite.
Micheel told BBC Sport: "I am going to be more nervous than at any other point in my life because I've been carrying around this burden of being a major winner but without having done anything else.
"When I won the PGA it hit me like a ton of bricks. I just don't think I was ready."
A peculiarity of the US PGA Championship is the perception that it lacks the prestige of the Masters, the US Open and the Open Championship.
But there can be no doubt about the quality of the field that the tournament produces, often the strongest of the season.
It makes it difficult to explain why so many first-time major winners break through in the event.
Three of the last four champions fit into that category and in the 1990s alone there were eight.
The most famous is John Daly, who won at Crooked Stick in 1991 after being drafted into the field as a late replacement [ninth alternate].
Another of the sport's more colourful personalities won in 2002 when Rich Beem held off a late surge from Tiger Woods at Hazeltine.
At the same venue in 2009, South Korean YE Yang became the first Asian player to win a major when he came from behind to beat Woods just one year after playing at Qualifying School.
And in 2011 Keegan Bradley won his first major which, like Daly's, came in his rookie season.
But Micheel's win is still arguably the most unlikely.
He added: "I didn't go through the normal process of winning tournaments prior to winning a major championship so when I did I felt like I was being judged - but I think that's on me.
"I just didn't handle it very well.
"The last few years have not been a lot of fun."
Finishing runner-up to Woods at the US PGA at Medinah in 2006 and, in the same year, losing to Paul Casey in the World Matchplay final at Wentworth proved Micheel could compete with the best.
But a combination of shoulder injuries, the death of his mother and protracted legal disputes with agents have seen Micheel's career steadily decline.
He said: "I have thought a lot about whether I would trade my win for a more consistent 10 years on Tour, and maybe I would.
"A lot has been written about Lee Westwood playing 62 majors without a win - but he's had an unbelievable career.
"I played pretty well the year after winning the PGA and made 21 of 26 cuts - but somewhere along the way I got hurt.
"I remember bumping into my coach at Bay Hill in 2007 and he asked me if I had changed my swing because he'd noticed that my arm just wasn't in the same position.
"Looking back now I know I must've already been injured and in 2008 I played through it."
An MRI scan revealed a bicep tear and a torn labrum.
"I don't think I have ever recovered from that," Micheel said.
"But that's life - if you really dug deep into a lot of the guys' lives away from the golf course you would be shocked.
"We all have life experiences that derail us.
"If I was an accountant, a lawyer or a restaurant manager I may get stressed out - but I don't think that would affect my performance."
Micheel's struggles with injury are well-documented in John Feinstein's book Moment of Glory, which also looks in detail at the rest of the players who contended for the majors in 2003.
The Canadian Mike Weir beat Len Mattiace in a play-off at the Masters; the Australian Stephen Leaney finished second to Jim Furyk at the US Open; Ben Curtis, then ranked 396 in the world, edged out Thomas Bjorn at Royal St George's to win the Open Championship and Chad Campbell finished second to Micheel.
So unheralded were they that the US sportswriter Dan Jenkins labelled 2003 a golfing nadir, more of a 'who's he?' than a 'who's who?' of major winners.
"I have taken issue with that personally," said Micheel.
"Ben has won tournaments since then, we all know Jim Furyk will be in the Hall of Fame and Mike has done some great things in the sport - but he's been injured as well.
"I can't understand what he was thinking when he wrote that.
"He's just an angry old man who is not a golf fan and he has no idea what it's like.
"I won that tournament and after I made a few birdies on Friday afternoon I led the whole way.
"It was my time and it just happened to be the PGA Championship.
"I take a lot of pride in being there at the end and that shot on 18 justified my win."
And what a shot it was: Micheel's seven-iron approach on the 18th has gone down as one of the most memorable in US PGA history.
Micheel added: "I have a very clear picture of it.
"I couldn't see exactly where the ball landed but I could hear a tremendous roar and it wasn't the sort of roar that you get from hitting it to 10 feet.
"I twice asked the cameraman standing next to me where it was but I got no response.
"I thought it was about three or four feet, so to walk up there and know that I couldn't possibly miss the putt was an amazing experience."
That tap-in was Micheel's 21st birdie of the tournament in rounds of 69-68-69-70 which saw him finish as one of only three players under par.
What he would give for some of that confidence now.
His season's statistics are not pretty, having made the cut just once in the nine events he has played across the PGA and Web.com Tours.
Micheel's lack of competitive golf is down to a familiar curse: injury, this time in his right shoulder.
He added: "I totally understand that there are no expectations of me doing anything this week."
The draw for the first two rounds sees Micheel playing with Beem and another shock US PGA winner from 1996, Mark Brooks, neither of whom have won an event since their major victories.
One suspects they will have plenty to talk about.