Lee Westwood Twitter: English golfer says sorry for rant
Last updated on .From the section Golf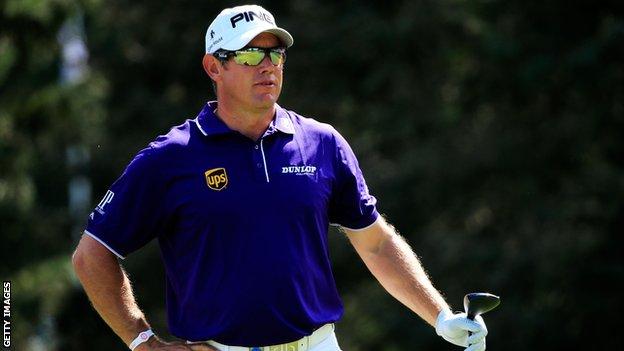 Golfer Lee Westwood has apologised for his Twitter outburst on Monday.
The world number 14, who finished sent messages criticising users who had tweeted him abuse.
He also dismissed comments by pundit Colin Montgomerie who had been critical of his final round of six-over 76.
The 40-year-old later tweeted: "Sincere apologies to my sponsors and true followers for my earlier comments. It was out of order and out of character."
The English golfer was angry with criticism he was receiving on the social media website about the fact he had yet to win a major, having had five top-three finishes.
He told users over a three-hour period, "Will you get a life first", "You minions need to live from the inside out rather than the outside in" and "Come on you girly boy trolls! I've only won just over 2 mill [million] on course this year! Need you to keep me entertained a bit longer than this!"
When asked, "Has someone hacked your account Lee? Drink doesn't solve anything!", he replied "Oh it does! Plenty!"
And, in response to someone asking about former Ryder Cup captain Montgomerie's criticism of his performance, Westwood responded with "who?".
The Worksop-born player has since deleted some of the more expletive-ridden tweets, but not all the critical ones.