Ewen Ferguson thrilled by Boys Amateur Championship victory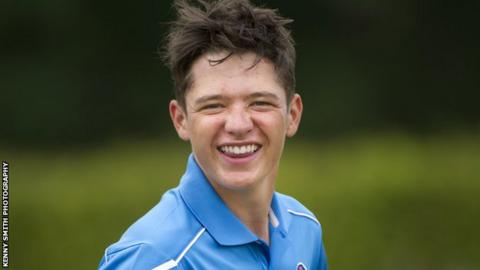 Ewen Ferguson has no regrets about quitting school early following his Boys Amateur Championship success.
The Bearsden 17-year-old is the first Scot to lift the trophy since 2004 after a 10&9 win over Germany's Michael Hirmer in the 36-hole final at Hoylake.
"I left school as soon as I turned 16," he told BBC Scotland. "And my golf has gone from strength-to-strength.
"I've been working really hard to get this first big win under my belt and I'm just so happy to get it done."
Ferguson, who joins a list of winners that includes Jose Maria Olazabal and Sergio Garcia, said that it was increasingly difficult to balance school work with the demands of developing his talent.
"My golf was really starting to progress and I was being invited to a lot of tournaments abroad and I wasn't getting the time off school," he added.
"My family were very supportive. They just want me to happy and be the best golfer I possibly can be."
Ferguson's father, Mark, said he "thought long and hard" about his son's request to end his school days.
"He's a long way off turning professional," he explained.
"This is almost like an apprenticeship, like he would do if he was becoming an engineer, for example. That's how we're looking at it.
"He's got a full disciplinary schedule that he works to. His weekends are more or less Monday and Tuesday. He's got a schedule of an eight-hour day, four hours on the course and the rest in the pool, on the bike and in the gym.
"You can see the benefit of what he's done in the last six months. He's got the stamina now.
"He's in the Scotland performance squad and that gives him access to a lot of help.
"At the Scottish Golf Union, he's got the sports nutritionist, a strength and conditioning coach and he has had a personal coach - Gregor Monks - for the past four years.
"He works very hard with Ewen on his swing. If you can master your swing and be technically sound, then you will be able to repeat it under pressure."
Ferguson's victory at Hoylake may have been emphatic but the teenager needed to recover from a rocky opening.
"I didn't get off to the best of starts," he recalled. "I was a little nervous.
"But I managed to hole a 30-foot putt on the sixth to get back to two down and the momentum swung my way from there."