Solheim Cup: Women's golf can cash in on Europe's success

By Iain Carter
BBC golf correspondent
Last updated on .From the section Golf40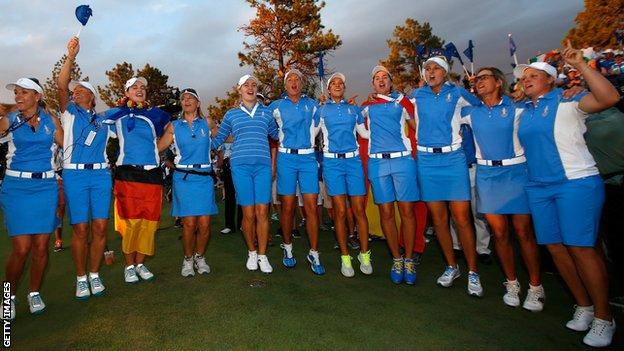 To the right of the 18th green it was a joyous scene. Not a star or stripe in sight, instead it was all blue and yellow. The colours of the victorious European team.
It was reminiscent of Medinah a year ago when the continent had completed their astonishing comeback to beat America's men and retain the Ryder Cup.
This time, though, there had been no comeback. There had just been an unprecedented thrashing. The biggest win in the Solheim Cup's history with the 18-10 scoreline in Europe's favour.
Records had been smashed as Liselotte Neumann's team became the first from the continent to win on US soil and successfully defend the trophy.
Charley Hull, the youngest player in the history of the matches, was smiling like 17 year olds should - especially around exam results time.
After all, she had passed her tests well ahead of schedule and pundits were launching their predictions of all-conquering glory for the Kettering lass.
Hull's team-mate Caroline Hedwall was being interviewed by cameras from a string of European nations to reflect her record five wins out of five. The Swede's birdie at the last had retained the trophy.
Veteran Catriona Matthew beamed from ear to ear. Her putt at the last, in her seventh Solheim Cup, had guaranteed the half that meant the match was won.
"Ole, Ole, Ole," rang out from players, caddies, fans and officials. And while it did one man stood quietly, just to the side of all the jumping, dancing and singing.
Ivan Khodabakhsh, formerly the CEO of World Series Boxing, is the new executive charged of the Ladies European Tour.
It is his job to make sure the fruits of this successful defence of the Solheim Cup prove more tangible than just a triumphant weekend in Colorado.
"The head is already working," he told BBC Sport. "We are already delighted to have fantastic organisers for the next Solheim Cup in Germany where they have a huge vision.
"Not just of staging an event but bringing women's golf into the heart of Europe. Now we are bringing home the cup in this manner, it just opens the doors."
Khodabakhsh was appointed earlier this year and knows the challenges to his quest to grow the LET. He also knows he's been a handed the perfect gift to help him drive forward the project.
"We already have big companies who say they want to get behind women's golf. To have this success helps that," he said.
"It will also help us put our product more on television. It is sometimes tough to sell women's golf because there are prejudices and people saying this doesn't work and it's not good golf and so on. There is a long list of all the arguments I have heard."
The Solheim Cup is the biggest event in the women's game and anyone who witnessed this match and the contest when Europe won back the trophy in 2011 will be aware of its potential.
The LET boss now wants to talk to television companies in his bid to expand coverage of and increase exposure for his players. "Many of those broadcasters were here and they were showing this event," he said.
"So I will now look forward to having my first meetings with them. Golf is a fantastic game. It is not a niche game.
"In the women's golf here, everybody displayed unbelievable competitiveness and we have to bring it to mainstream. We have to bring it to sports fans not just golf fans."
It is a laudable ambition. The last two Solheim Cups have been epic events to dismiss the often touted notion that women's golf isn't worth watching.
The only downside is that not enough people were able to witness Europe's astonishing triumph. While the Colorado Golf Club course was superb, its geographical location was hopeless if mass exposure was a genuine ambition.
Not only did the match finish around 2am UK time (3am in most of continental Europe) each of the three days also ended too late to make the most of the US east coast newspaper market.
These are factors that have to be taken into account when future venues are decided.
Nevertheless there should be plenty of scope for recognition for Europe's women in the end-of-year awards season. This was a very special performance.
It means all the major transatlantic trophies (Solheim, Ryder, Walker and Curtis Cups) remain out of American hands.
The next to be put on the line will be the Walker Cup in September when the US play host to Nigel Edwards's Great Britain and Ireland team in the amateur equivalent of the Ryder Cup.
Edwards will take a bright young team to New York spearheaded by Matthew Fitzpatrick fresh from his US Amateur triumph at Brookline on Sunday.
The 18 year old from Sheffield can also look forward to playing the Masters, US Open and Open next year.
He won the silver medal as top amateur at Muirfield last month and already Ladbrokes are quoting 5 to 1 that he will win a major when he eventually turns professional.
Of course there are no guarantees. The same applies to Charley Hull and the excellent Jodi Ewart-Shadoff in the women's game.
But after the weekend just gone we should be in no doubt there is immense promise for the future.
Now the challenge for players and bosses alike is to harness it to such effect that we continue to be able to sing and dance in triumph for years to come.