Michael Hoey says fatherhood helped him win in Russia
By John Haughey
BBC Sport NI
Last updated on .From the section Golf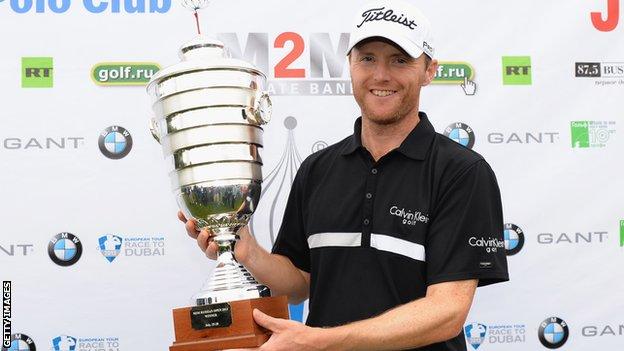 Michael Hoey isn't being at all flippant when he says that becoming a father was probably a big factor in his Russian Open win last month.
The 34-year-old went into the Moscow tournament following seven missed cuts in his 10 previous European Tour events and having slid to 303rd in the world rankings after starting 2013 in 138th spot.
But daughter Erin arrived into the world at the Royal Victoria Hospital in Belfast on 20 June courtesy of Michael's wife Beverley and there wasn't going to be quite as much time as before for the new father to brood about a misbehaving golf swing.
"I can't think about my golf swing all the time. I have to do all kind of stuff that I never had to do before. I've never been as busy in my life which is a good thing," he said.
And the European Tour's struggles for sponsors this year - with the calendar effectively blank for four weeks if you weren't in the world's top 50 - meant a baby born in the summer of the 2013 wasn't going to impact on a schedule in quite the way that it would have in previous years.
"You almost need another job unless you are in the world's top 50 because you have a lot of weeks off and how you fill those weeks is really important."
Helping to change the nappies and other assorted baby tasks was going to help fit that bill.
On the course and on the range, it has also been a year of upheaval for Hoey with his decision early in a stop-start season to change coaches and move away from Jamie Gough and work with both Justin Parsons and Northern Ireland-based Johnny Foster.
"There were fewer tournaments and big gaps between tournaments," added Hoey.
"I was spending quite a bit of time in Dubai and ended up changing coach to Justin Parsons who is based there.
"I was trying to understand the swing a bit better and I changed after two and a half years with Jamie Gough.
"Jamie is very good and works with Richard Sterne and George Coetzee and a lot of top 50 guys in the world.
"But because I wasn't playing in many tournaments, I was working on my swing and getting quite technical.
"I asked Justin Parsons in Dubai to have a look at me and what he said made a lot of sense.
"With him, it's a bit more like the way Tiger Woods and Justin Rose are swinging the club now as you aim to keep the left arm on the body more instead of separating the back swing.
"It's taken a few months for that to bed in and Johnny Foster has been helping me stay on that path at home."
A lack of consistency has always hindered Hoey's career.
Five European Tour wins, highlighted by his Dunhill Links Championship win in 2011 when he saw off a world-class field including Rory McIlroy and Graeme McDowell, are testament to the Belfast man having a cool nerve 'down the stretch' but he has only managed three other top 10 finishes on the circuit.
"I would have been airy-fairy and a feel player which is great but you do need structure as well.
"You can have a good week if you have the talent and timing but if you do want to be consistent, it's got to be repeatable."
Four days after Erin's arrival, Hoey showed improved form as his narrowly missed qualifying for the Open Championship and the Irish Open was moderately encouraging later that week as he opened with a 67.
His confidence took a hit in his next two events as a final-round 79 in France was followed by a missed cut at the Scottish Open.
However, a promising practice session on the Sunday before his trip to Moscow game him some hope ahead of his Russian expedition.
"I started to hit the ball well on the range that day at Blackwood but I was still only thinking maybe in terms of trying to get a top 10 in Russia to try and get something going."
However, the golfing gods had much more in store for Hoey.
All of a sudden, Hoey was hitting the ball beautifully and with putts dropping, he found himself in uncharted territory with a five-shot advantage going into the final round at the Jack Nicklaus-designed Tseleevo course.
Hoey admits that he "didn't have the best night's sleep" as a multitude of thoughts pin-balled around his mind.
"It was hard to avoid thinking about winning. I was thinking Bob Rotella who says 'your best chance of winning is not to think about winning'."
Easier said than done, one assumes.
But on the Sunday, Hoey took a conscious decision to continue with the aggressive game plan that had got him into the winning position and it was to pay off handsomely as a final-round 70 sealed his four-shot success.
No-one was more delighted about Hoey's success than the organisers of next week's Northern Ireland Open at Galgorm Castle given that the Belfast man will be event ambassador as well as attempting to win the Challenge Tour event at the Ballymena venue.
"I am really looking forward to playing in a big tournament at home again after the success of last year's Irish Open at Royal Portrush," adds the Belfast man, who will be in action at this week's Johnnie Walker Championship at Gleneagles.
"It was a great honour to be asked by the people at Galgorm to take on the ambassador role and hopefully me winning the Russian Open won't do any harm in terms of promoting the event."
After the Northern Ireland Open, Hoey faces a busy run of tournaments which including a trip to the scenic Crans-sur-Sierre for the European Masters and the aforementioned Dunhill Links.
"It's a bit weird because you go from having five weeks off at one stage to being able to play six weeks in a row. But that's the way the tour is nowadays and you just have to run with it."