Scotland's Paul Lawrie targets Gleneagles form boost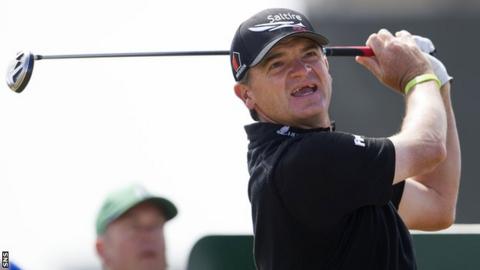 Paul Lawrie admits he's been "frustrated" at his recent form, which he describes as "inconsistent''.
But, as he prepares to defend at Gleneagles, he says there are signs of improvements in his game.
"The form hasn't been great, it's been a bit inconsistent and frustrating," said Lawrie.
"But I'm getting better, my form has been better, and I've been hitting the ball better off the tee."
Lawrie always considers it a challenge to be playing golf in his home country and, with the tournament being put on hold in 2014 due to the Ryder Cup, he expects a warm welcome over the coming days.
"It's just always good to play golf in Scotland," said Lawrie.
"It's a bonus that it's at a place you feel comfortable on. It's nice to play golf in front of your own people.
"Having won last year I know the course suits me. It's always nice to be back here.
"It's a pity that there's not going to be one next year, but it's understandable. The Ryder Cup is such a big and huge event that it takes over places for a long time - to play a tournament before or after it would be difficult, so I think it's the right decision to leave it for a year."
Lawrie had high praise for the changes made to the course at Gleneagles, which he believes will benefit both the players and the crowd and he would very much like to be part of Europe's Ryder Cup team time next year if he can rediscover his past form.
"It's a great spectator course," said Lawrie. "There's lots of banks to watch from a height - especially at 18, the new hole - they've done a great job of getting people round about it.
"I'd love to be back in there again."
Marc Warren, the 2007 winner, echoed Lawrie's sentiments about Gleneagles and admitted he would be competing in this year's event with 2014 in mind.
"Six years is a long time, it doesn't seem like it is that long," he said.
"It has gone really quick and the memories are really fresh every time I come back here.
"I've great memories and great feelings every time I walk through the gates here.
"I've been through that high expectation period in my career and it doesn't do you any good.
"I don't expect to come here and do well just because I've done well in the past.
"It is a fresh week and everyone starts on level par and there are too many good golfers to get ahead of yourself.
"While it is a course I feel comfortable with, I still have to play very good to get in contention."