Tiger Woods eyes £6.3m FedEx Cup jackpot and sixth win of year
Last updated on .From the section Golf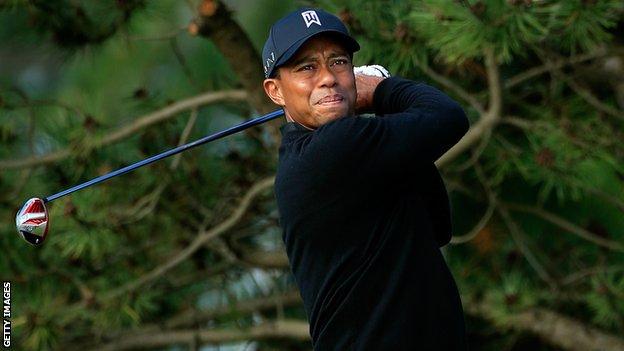 Tiger Woods is hoping to secure his sixth title of the year and take home a $10m (£6.3m) bonus with victory at the Tour Championship starting on Thursday.
The world number one is one of five players who know a win in Atlanta would guarantee them the season-long FedEx Cup, while the remaining 25 players could also claim the bonus.
"Winning five times this year has been pretty good," said Woods.
"Like the other four guys in the top five we control our destiny."
He added: "I think I've had a good run here. I've won twice and finished second four times. That's not too bad over the course of my career here."
Henrik Stenson, Adam Scott, Zach Johnson and Matt Kuchar are the other players who know victory would secure them the cash bonus, while Woods could finish as low as 29th and still have a mathematical chance of winning.
For Open champion Phil Mickelson to win the jackpot, he needs to win the Tour Championship - which itself has a first prize of $1.4m - and for Woods to finish no higher than third.
England's US Open champion Justin Rose needs a similar scenario.
Rose's compatriot, former world number one Luke Donald, scraped into the event in 28th place by finishing fourth in the BMW Championship on Sunday.
He needs a win and for Woods to finish no higher than 25th.
While he has not added to his tally of 14 majors, Woods has otherwise enjoyed a fine year.
When asked whether he thought this had been one of his most consistent seasons, the 37-year-old said: "I think so. I won some big events this year - two World Golf Championships, a Players (Championship) and Jack (Nicklaus) and Arnold's (Palmer) tournament. I think that's been a pretty good year.
"I think that I'm excited the way I've put together my last couple of years and coming off the injuries, a lot of people thought I would never win again, and here we are with some more wins."