Ryder Cup: Tom Watson says age no issue for US captain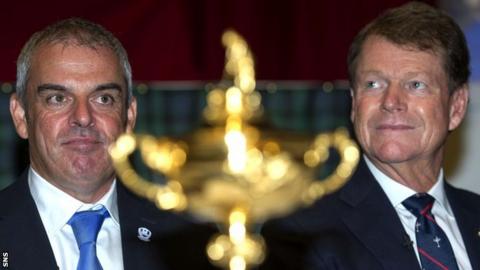 Tom Watson believes his age will not be an issue when he leads his United States team into next year's Ryder Cup at Gleneagles.
Watson, who will be 65 when he captains the US side next September, is confident that being a pensioner will have no bearing on the outcome.
"The players know I've played in the Ryder Cup," he said.
"And they know that I've captained in the Ryder Cup. I know that they know that and it won't be problem."
Watson is an eight-time major winner, with the last of his five Open triumphs coming at Royal Birkdale in 1983.
A decade later, he captained the US to victory in the Ryder Cup with a 15-13 success at The Belfry.
Watson played in four Ryder Cups and never finished on a losing side, winning on three occasions, while the 1989 contest was tied, with Europe retaining the trophy.
"I think some of the criticism of me is unfair, saying that I am old," said Watson. "That's just a fact.
"The other side of the coin is that I have been there before and the players know that I have been there before.
"Nothing has changed. In 1993 I said that I hoped I could bring some levity to it because the pressure is enormous; sometimes it's oppressive. You have to get that to subside in some way.
"Last year was great theatre even though we lost. We hope the theatre will be just as good next year but the outcome might be a little different."
The US skipper said that his team "have something to make up for" after last year's dramatic loss in Medinah, when the home side went into the final day's singles with a 10-6 lead, adding that he wanted "guys that have the guts and heart".
Watson explained: "From my conversations with last year's captain Davis Love, he said how depressed the players were at the loss.
"I hope that feeling remains for some of those players who will remain on our team and they can use that as a motivator."
Meanwhile, Europe captain Paul McGinley says that he is comfortable with many of his potential team members being out of form at the moment.
McGinley has spoken of many of his playing prospects as "flatlining" in the world game but added: "That's OK. We understand.
"[Jack] Nicklaus and [Tiger] Woods have gone through large parts of their careers without wins. But with Justin Rose winning the US Open and now the winner of the FedEx [Henrik Stenson] we have players who can pick things up."
Indeed, Stenson has all but secured his place in the 12-man team already.
The 37-year-old Swede has won twice since the qualifying process for Gleneagles started; at the Deutsche Bank Championship and the Tour Championship on Sunday to also secure the $10m (£6.3m) bonus for winning the FedEx Cup.
"Our points list is heavily weighted in favour of the world points list and Henrik has won twice in the FedEx Cup play-offs," said McGinley of the player who holed the winning putt in the 2006 RyderCup at the K Club.
"He is 85% there already and we are only in October."