Seve Trophy: Rory McIlroy and co still honour Ballesteros memory

By Iain Carter
BBC golf correspondent
Last updated on .From the section Golf51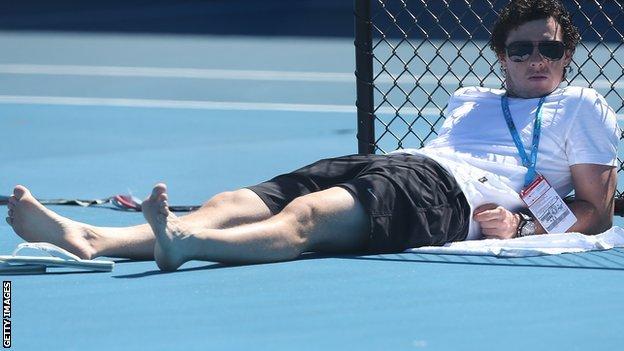 Paul Lawrie criticised the Seve Trophy stay-aways, saying he was prepared to walk to Paris to represent Great Britain and Ireland against Continental Europe this week.
The 1999 Open-winning Scot's most serious charge was that those choosing to rest rather than play were failing to honour the late Seve Ballesteros, after whom the match is named.
Lawrie reasoned that no-one had done more than the Spaniard to create the lucrative lives now being lived by Europe's elite golfers.
It is hard to argue against that sentiment.
However, it is more difficult to sustain the claim that Rory McIlroy, Lee Westwood, Luke Donald and co have somehow dishonoured Seve by not heading to the French capital.
The Seve Trophy really isn't the event to provide a lasting tribute to the Spanish great.
Let's face it, the biennial match has never really resonated with fans and players.
It doesn't come close to stirring the kind of emotions synonymous with the passion and charisma of Ballesteros.
Critics say Europe's decision to wear Seve blue and brandish his image on their Ryder Cup bags a year ago has been rendered hollow by the collective Seve Trophy snub.
From the "miracle at Medinah" Nicolas Colsaerts, and Francesco Molinari appear in the Continental team this week. Peter Hanson was due to take part as well but has been replaced by Gonzalo Fernandez Castano because of injury.
Aside from Lawrie, the GB and Ireland team boasts none of the heroes from that epic Chicago contest.
The European side of 12 months ago created one of the greatest golfing stories of all time. Ian Poulter inspired a team comeback that was the epitome of Seve golf.
If ever there was a player who didn't know he was beaten, it was the five-time major champion. Seve was surely looking down with the broadest of smiles as Europe mounted, and completed, their unlikely comeback from 10-4 down.
To a man, the continent's team paid tribute to Seve in word and deed. Ballesteros's long-time playing partner Jose Maria Olazabal wept tears of delight, relief and grief.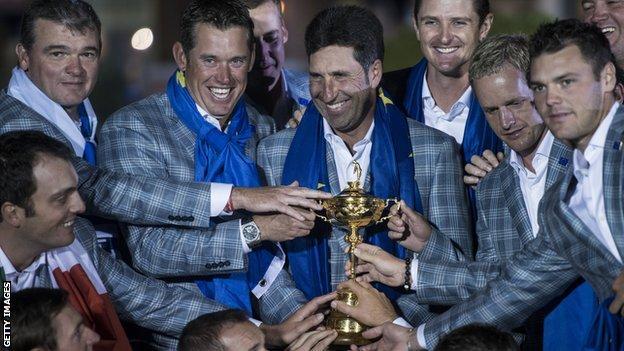 You know who was in the forefront of the Medinah skipper's mind. It was the first Ryder Cup since the untimely passing of his great friend.
There was no doubt the life of Seve had been honoured in the most appropriate way imaginable.
So now are we to wipe that from the slate? Just because the vast majority of those players aren't prepared to disturb their holidays to play the Seve Trophy.
This is the event that was overshadowed by a ploughing competition when it was staged in Ireland in 2007.
It has always struggled to find sponsorship, and a home, simply because it is contrived. It doesn't play to a natural rivalry so doesn't properly stir the emotions.
That's not to say it doesn't have its place. It is a perfect environment to blood future Ryder Cup players and captains alike.
It was at the Seve Trophy that Paul McGinley showed the credentials that earned him the captain's job for next year's clash at Gleneagles.
For players like Matteo Manassero, Thorbjorn Olesen and Joost Luiten, this can be a big week.
The same applies to Tommy Fleetwood and the four Scots on show; Lawrie, Scott Jamieson, Marc Warren and Stephen Gallacher. For them, a place at Gleneagles next year could be career defining.
They can show how well they adapt to a team environment. Partnerships can be tried out, just like McGinley did with McIlroy and Graeme McDowell when he led the side in 2009.
This is an event that should be held with an eye to the future. Europe don't need to get all their current stars together to play against each other in non-Ryder Cup years.
The Americans have their Presidents Cup, against an international team, and it does nothing for their form in their biennial jousts with Europe. Since that match's inception in 1994, the US have won just two Ryder Cups.
Europe's top pros do need to take a break if they are to peak at the right times. There are still the final four weeks of the Race to Dubai to be completed in China, Turkey and the Middle East.
It is not the easiest schedule when home is in the United States. And why do they live in America? Because these are players who have become leading competitors on the PGA Tour.
They challenge for, and win, majors. How has this become possible? One reason is a man called Seve helped demolish barriers. The kind that often prevented his predecessors sustaining success on American soil.
Europe win Ryder Cups in the United States, Justin Rose grabs the US Open and Henrik Stenson runs off with the game's biggest cheque paid in dollars. That's when the memory of Seve is truly honoured.
These top Europeans are living the life for which Ballesteros fought hard during his pomp.
There is no need for them to play the Seve Trophy. The continent's top players are already making the most of his legacy and, just like the great Spaniard did, they thrill European fans along the way.
I think Seve would approve.