Olivia Jordan-Higgins edged out in LPGA tour card race
Last updated on .From the section Golf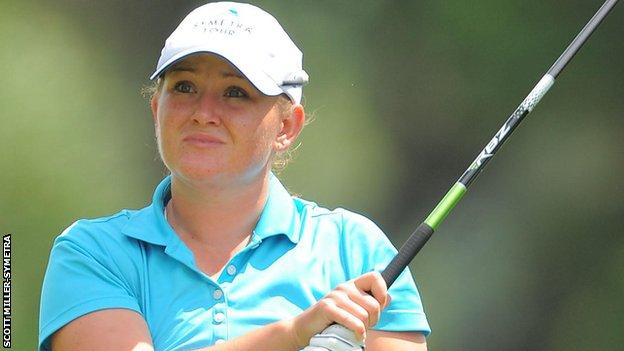 Jersey's Olivia Jordan-Higgins has just missed out on an automatic place on next season's LPGA Tour.
Jordan-Higgins was in eighth place on the Symetra Tour money list, with the top 10 at the end of the season earning a place on the senior tour.
But a missed cut at the season-ending Symetra Tour Championship saw the 25-year-old fall to 11th on the list - an agonising $114 short of 10th place.
However, she could get a second chance via the LPGA qualifying school.
Jordan-Higgins had an agonising wait in Florida after bad weather forced the end of the final round of the tournament to be held over to Monday.
And French golfer Perrine Delacour jumped from 20th to eighth place after finishing runner-up, effectively knocking Jordan-Higgins out of the top 10 and costing her a tour card.
She had been in sixth place in the money list with two tournaments remaining, but consecutive missed cuts frustrated her ambitions for the second year in a row.
"I'm not sure I can put into words my disappointment and sadness," wrote Jordan-Higgins on Twitter.
"But everything happens for a reason. Life will go on.
"I'm obviously heartbroken but will come back stronger and better next year to prove my place."
In 2012, Jordan-Higgins was lying in 14th place going into the final tournament of the year only to have to pull out because of injury.