Rory McIlroy returns to action at Korea Open after month off
Last updated on .From the section Golf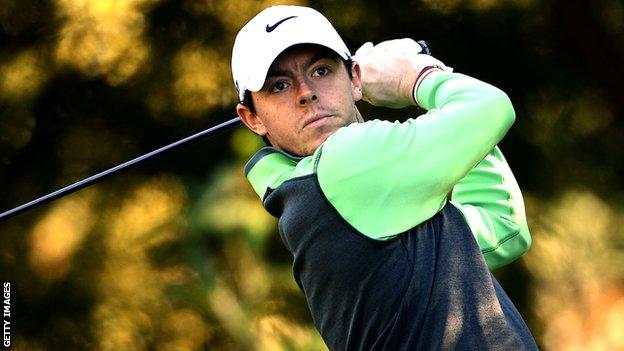 Rory McIlroy said he is looking forward to getting back to tournament action at this week's Korea Open in Seoul after a month off.
Former world number one McIlroy, 24, has not played since failing to qualify for the PGA's Tour Championship.
Since then, he has confirmed he is setting up his own management company after splitting with Horizon Sports.
"I'm just happy to be back on the golf course and doing what I do best," said the Northern Irishman.
"It's a nice place for a little bit of solace."
In addition to his management changes, McIlroy has also had to fend off media interest in the state of his relationship with tennis player Caroline Wozniacki, with the golfer refusing to discuss the issue on Tuesday.
"My private life is private. I'd like to keep it that way," said McIlroy ahead of the start of the Korean event on Thursday.
He tied for third at the Korea Open in 2009 and was the runner-up in 2011 behind American Rickie Fowler.
With no opponents of Fowler's calibre this week, McIlroy is by far the highest-ranked player in the field at the £625,000 event.
"I've played good golf here before, but I haven't played quite well enough to win. Hopefully, it will be the third time lucky for me," added McIlroy, who has earned only one top-10 finish in his last 10 starts.
McIlroy will hope to gain some confidence ahead of the upcoming series of lucrative events, which start with next week's £4.35m BMW Masters in Shanghai.
His hectic schedule will squeeze in another million-dollar payday in an exhibition match against Tiger Woods at Mission Hills on the southern island of Hainan, before he flies the 1,100 miles back to Shanghai for the WGC-HSBC Champions event.
After a stunning 2012 season which included his second major victory at the US PGA Championship at Kiawah Island, McIlroy has failed to register a win in 2013 - which would have seemed an improbable prospect at the start of this year.
McIlroy has refused to put his comparative slump down to his switch to Nike clubs at the start of the season.
"I developed a couple of bad habits. I wasn't playing as well as I wanted and that obviously dents your confidence a little bit," he said.
"It definitely had nothing to do with equipment."