Rory McIlroy beats Tiger Woods by one shot in exhibition match
Last updated on .From the section Golf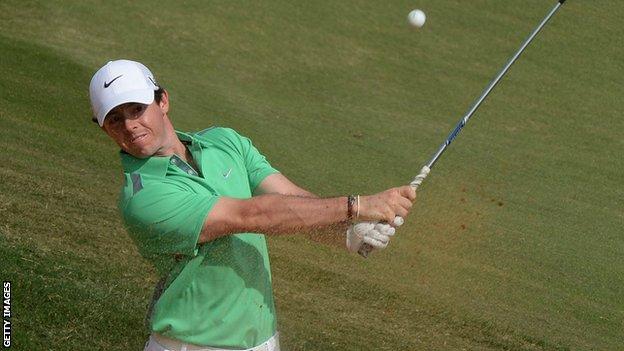 Rory McIlroy has beaten Tiger Woods by one shot in an 18-hole exhibition match in China.
The Northern Ireland golfer shot a six-under par round of 67 on Monday at the Mission Hills course in Hainan Island.
It is the second time that McIlroy has edged the lucrative made-for-TV event in China, having also beaten Woods by one shot at Jinsha Lake last year.
McIlroy plays in the WGC Champions event in Shanghai this week needing to qualify for the Race to Dubai.
McIlroy finished in a tie for 27th at the BMW Masters on Sunday and acknowledged that he "needs a good week" on his return to Shanghai to make the top 60, who qualify for the Race to Dubai finale in two weeks' time.
McIlroy won both the tournament and the Order of Merit trophy last year, but his poor form in 2013 has left him currently 62nd in the standings and struggling to make the field.
He was happy with his driving at the weekend and says it is his putting that needs to improve.
"I feel my game's better than the scores suggest," he said after Sunday's one-over-par closing round of 73 in Shanghai.
"I definitely left a few out there on the greens. I'm giving myself plenty of chances and sooner or later they are going to fall."