Simon Dyson: European Tour to consider Tour expulsion
Last updated on .From the section Golf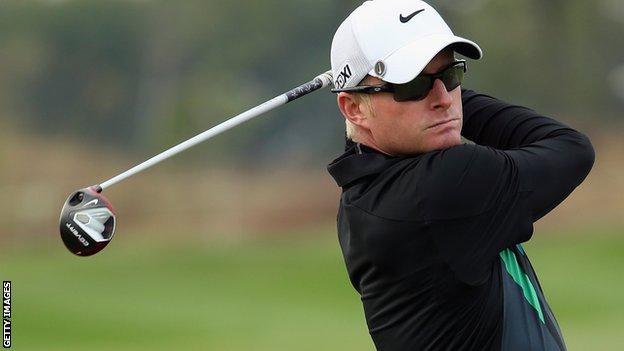 Simon Dyson could be banned from the European Tour after signing an incorrect scorecard at last week's Shanghai Masters.
After marking his ball on the eighth green during his second round, Dyson touched the ground in his putting line.
Dyson denies deliberately fixing a spike mark in the line of a putt, calling it an "accidental mistake".
The offence went unnoticed until television viewers alerted European chief referee John Paramor.
Expulsion is the most severe punishment that officials could impose on the six-time Tour winner.
A review found Dyson had violated rule 16-1a, which forbids a player from touching the ground in the line of a putt.
Senior European Tour officials concluded that an investigation into an alleged "serious breach" of the Tour's code of behaviour was required.
The disciplinary procedure states: "If, at the conclusion of an investigation into an alleged breach of the code by a member, it is evident that a serious breach of the code may have occurred, then a disciplinary hearing shall take place before an independent disciplinary panel."
Under European Tour regulations, the three-person panel would comprise an independent lawyer, an ex-member of the European Tour or current player on the European Senior Tour and an experienced sports administrator.
"I have never deliberately broken the rules, either on this occasion or in the past," said Dyson.
"It was only after I was shown the replay of my action after marking the ball on the eighth green during the second round that I realised what I had done and that I was in breach.
"I immediately accepted that I should be disqualified.
"My action was in no way a deliberate act with the intention of breaking the rules. It was simply an accidental mistake."