Simon Dyson withdraws from Turkish Open
Last updated on .From the section Golf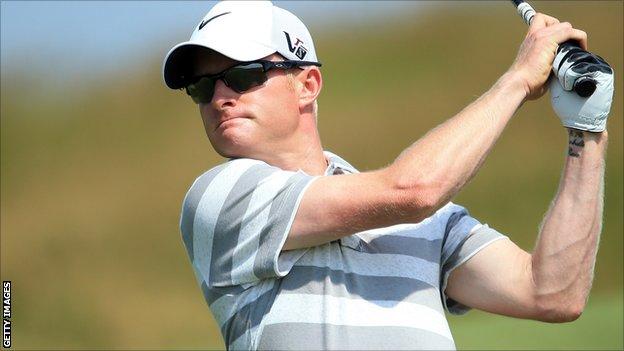 Simon Dyson, who faces possible suspension from the European Tour after signing an incorrect scorecard, has pulled out of next week's Turkish Open.
After marking his ball on the eighth green during his second round, Dyson touched the ground in his putting line.
Dyson denies deliberately fixing a spike mark in the line of a putt, calling it an "accidental mistake".
The offence went unnoticed until television viewers alerted chief referee John Paramor.
Expulsion from the Tour is the most severe punishment that officials could impose on the six-time Tour winner.
A review found Dyson had violated rule 16-1a, which forbids a player from touching the ground in the line of a putt.
Dyson is not on the final entry list for the £4.4m event in Antalya.
Given that he is 68th on the European Tour's money list, he no longer stands a chance of qualifying for the season-ending DP World Tour Championship later this month.
The Dubai tournament is reserved for the top 60 players.
The European Tour will hold a disciplinary hearing into Dyson's actions at a date yet to be determined to decide whether he should be further penalised for what he did in Shanghai.
Possible penalties range from a reprimand to expulsion from the Tour.
Dyson released a statement earlier this week vehemently denying that he deliberately cheated, saying he had made an "accidental mistake".