Simon Dyson disqualification: Is it time to introduce video refs?

By Iain Carter
BBC golf correspondent
Last updated on .From the section Golf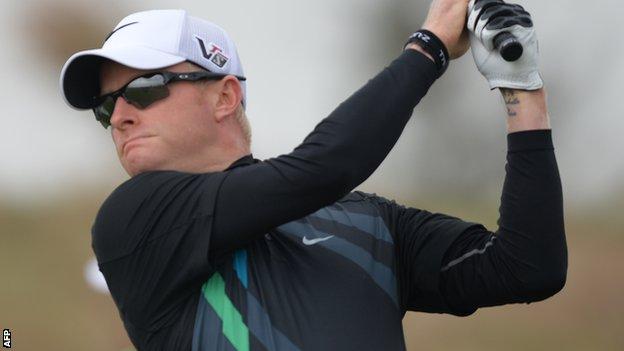 Where do we start after the abundance of headlines generated while the golfing world was in China over the last fortnight?
Rory McIlroy stepped into the fray on that subject too, while on the course there has been plenty to consider as well.
The Northern Irishman bounced back to a semblance of form, as did Ian Poulter, Graeme McDowell and Justin Rose, to turn up the heat as the Race to Dubai heads into its final fortnight.
But this denouement of the 2013 European Tour season will not feature Dyson, who has decided to skip this week's Turkish Airways Open while awaiting disciplinary proceedings.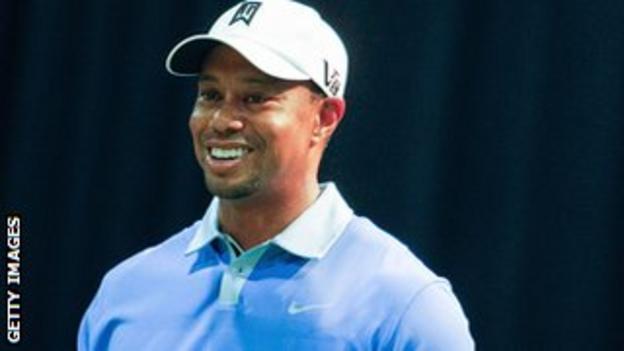 Video footage of the way Dyson appeared to tap down a spikemark with his ball in the second round of the Shanghai tournament makes for uncomfortable viewing.
The Yorkshireman will certainly have some serious explaining to do when he faces a three-man disciplinary panel before the end of the month.
His management team feel he would have been "crucified" if he turned up in Turkey in a bid to secure a top-60 spot for the season-ender in Dubai next week.
On a wider issue, there must also be concern that it took a television viewer to highlight Dyson's rules breach.
Golf is meant to be a self-policing sport but that clearly was not the case here. Dyson says he has no recollection of his illegal actions. They also went unnoticed by his playing partners.
As a consequence he failed to add a two-stroke penalty, signed for the wrong score and was duly disqualified.
There must be an argument for the tours to start employing video referees who provide a constant review of live TV footage.
This would limit the scope of rules controversies significantly. It would be less likely players would sign for the wrong score because rules breaches would be addressed before cards are signed.
Furthermore, were a video referee to miss an incident subsequently spotted by a TV viewer, the player concerned shouldn't be liable to disqualification.
He should be saved by the "exceptional circumstances" clause that assisted Woods when he was reprieved at this year's Masters. The penalty would be added to his score as he continues in the tournament.
More pertinent to the Dyson case, players would be less likely to commit blatant rules breaches when they know they are liable to continued scrutiny from a rules official.
As has been well documented, Woods has had his fair share of rules incidents this year - prompting Chamblee's outspoken criticism in his column for Golf.com.
The former Tour pro is an engaging, often outspoken and insightful voice on the Golf Channel.
Woods and his team piled pressure on the US network to take action against Chamblee, who admits he overstepped the mark with his comments.
McIlroy also added his agreement with the world number one's stance. "People wouldn't know who Brandel Chamblee was if it wasn't for Tiger Woods," he opined.
What he forgets is that no one would know who any of the golfers are without coverage from the media.
With that comes all sorts of exposure and scrutiny. Most of it is fair, but sometimes it isn't. That's life for the top professionals - and well remunerated they are too.
Chamblee's job is to analyse golf's biggest stories and present a point of view that will inspire debate and discourse, sparking interest in the game.
It would be a very sorry situation if a network bowed to player pressure to take action against an employee in these circumstances.
Woods, meanwhile, turned up in China for an exhibition match against McIlroy but could not stay on to compete in the WGC HSBC Champions tournament.
This is another sorry situation. The fourteen-times major champion prides himself on being a global player - yet cannot find room in his schedule to play the only World Golf Championships tournament outside the United States.
It is little wonder the sponsors expressed disappointment; they deserve better from the world number one.
McIlroy did play and his share of sixth place guaranteed his title defence in Dubai next week in what should be a fascinating finale to the season.
Race to Dubai leader Henrik Stenson plays in Turkey this week, along with Rose and Poulter who are third and fourth in the money list. Second-placed Graeme McDowell is taking the week off before heading to the Middle East.
It has been a tough 12 months for the Tour but there now appears a decent chance for the year to build to an exciting climax.
Less encouraging for the Wentworth-based European Tour is the news that the PGA Tour has set up a twelve-tournament China Tour. This gives the US circuit a significant foothold in a country where golf is expected to explode in the coming decades.
"We know from looking at the history of golf that the growth of the game is driven first and foremost by the development of elite players,'' PGA Tour commissioner Tim Finchem said.
"Having the opportunity to grow the elite players will also translate into the acceleration of the growth of the game in China, which is in all of our interests."
Until now the European Tour has made all the running in China, now it has serious company.
Slightly under the radar, this story is as significant as any of those which have hogged the headlines over the last fortnight.