China's quest for global golf domination
By Katherine Downes
BBC Sport
Last updated on .From the section Golf
There are no windows, the floor is bare wood, the Chinese flag hangs beneath stark lighting. Not the kind of place you would expect to find a future world-class golfer.
But this is how China is hoping to build Olympic champions in the country's newest sport.
This is golf's basement at Beijing's famous state-run sports school, Shichahai. About 30 children - aged between five and nine - are practising putting and chipping. They are lined up in front of mirrors to work on their grip and their swing. They do this for two hours a day, five days a week.
The thumping music from the boxing gym next door buzzes through the wall, while above their heads, on multiple floors, rows and rows of children play table tennis and badminton, or tumble and twist in the gymnasium.
The school is known as the Cradle of Champions. It has produced 37 world and Olympic gold medallists in the five decades it has been open. Now golf is on the Olympic programme, it is getting the Shichahai treatment too.
Taylor Li, who manages the Beijing Golf team, is overseeing the school's newest course. Junior golf started here last year.
Are the children pushed to be here?
"I don't think so," Li says. "I think it's quite normal if you want to be a player, if you want to do the sport better and better, you need to spend much more time than the normal people.
"I think most of these boys and girls like golf and I believe they will like it more and more."
Every province in China has its own centre of excellence like Shichahai. Since the IOC voted to include golf in the Olympics from 2016, five million people in the country have been given the chance to try their hand at the game. If they show promise, their education and training will be paid for by the government while they work towards becoming the best.
"Present a challenge and the Chinese will excel," says Billy Payne, chairman of the Augusta National. "That's their culture and if there's a way or an award that says 'you are the best', then as a country in terms of a training programme, they will identify the athletes that at some point will make them the best."
Payne is speaking in the colossal, marble-clad clubhouse at the Nanshan International Golf Club, the course that is hosting the Asia-Pacific Amateur Championships. The prize for the winner will be a place at the Masters next April.
"We're fortunate to be able to call Augusta our course," he says, "and to make it a dream for these kids has always been our goal. Not too many years ago we decided there was place in the world only just discovering golf and if we got involved perhaps we could advance the game, get more kids interested and the ultimate prize of being able to play in the Masters inspires a lot of people."

Last year that prize inspired Chinese teenager Guan Tianlang. At 14 he was the youngest player ever to compete at the Masters - and he made the cut.
He is back at the Asia-Pacific to try and qualify for Augusta again this year - but life has changed a little. He now has 1.5 million followers on Weibo, China's version of Twitter. So is he a superstar?
"A bit," he says, looking embarrassed.
His friend, and rival, 16-year-old Dou Zecheng, is also a star in the making. He swaggers around the green in his baggy trousers, trademark hat and trendy sunglasses; a picture of cool.
His game is impeccable and off the course he is funny and likeable.
"Wearing three shirts messed me up today," he says after a tricky second round. "It was too cold this morning."
I ask him if one day we will see players like him and Guan winning all the majors. "One day yeah we will, but it won't be too soon because we still don't have enough players. But in a few years we will."
For all China's ambition and enthusiasm, success will take time. Dou speaks in a perfect American drawl - he plays much of his golf in the US where he can train with other amateurs his own age and take advantage of the coaching and facilities on offer.
This is true of most of China's leading young golfers. The grassroots programmes are cranking into action now there is an Olympic medal up for grabs; the new £50m National Training Centre in Nanshan is evidence of that. But for those young players who have already given Chinese golf a global reputation, Western coaching and expertise is still better than anything on offer in their home country.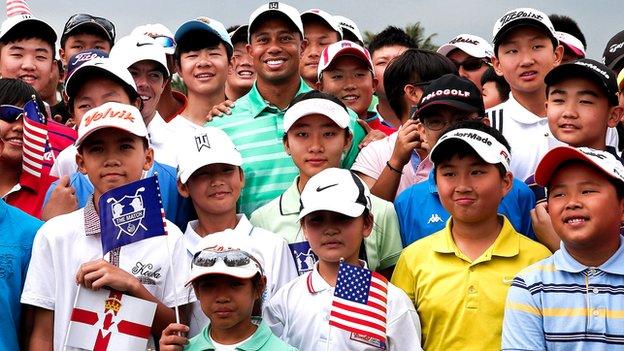 Hitting balls into the Shanghai smog is Ye Wocheng. At 12 years old, he became the youngest player to compete on the European Tour, beating the record of his compatriot Guan. On yet another brand-new practice ground, his coach David Watson adjusts his swing.
Watson, who is British, used to play on the European tour himself. He will not tell me how much he is paid, but he is now employed to work with Ye full-time. The bill is paid by Ye's parents. When I ask Ye if he is going to move to America, he says: "My parents are still discussing it."
Watson tells me ambitious families are an essential part of the "mix" in China, where schools, coaches and the state all work together.
"If you want to achieve anything in sport these days there's got to be a process," he said. "The parents need to be extremely focused as well as the child and the coach. So if you go back 20 years it was a different model, now there's a lot more younger people coming through because of the mix."
The next time I see Ye, he is lining up on the tee with world number six, Rory McIlroy. A neat, cheery woman entices the crowd to cheer and clap. There are inflatable golf balls floating in the sky and a booming soundtrack. Everyone is wearing "the swoosh"; NikeGolf - newly arrived in China - is getting a slice of the sport's newest market.
McIlroy interacts with the hundreds who have come to see him as best he can, and he teaches a masterclass on the course that will later host the BMW Masters. For the children he is coaching, among them Ye, it is a taste of what life could be like if they make it to the top of the game too.
Afterwards, McIlroy tells me China's strategy is risky. The pursuit of success at any cost will mean the brightest stars may "burn out".
"If they don't quite make it to the top they don't need to give up," he said. "It's a game you can play with your family - it's not just about trying to be the next champion or the next Olympic champion. It's about enjoying golf and having a love of the game and I think that's something China can learn from Europe."
But China is taking the best of what it can from Europe and the West - coaching, tradition and investment - and harnessing that for its own ends.
Rich families, the government and big business are all working towards a common goal here; to produce golf's next superstar.
It may take a decade or two, but no other country is producing golfers in this way and on this scale. And if they make it to the top, perhaps no other country will be able to compete.