Colin Montgomerie backs European Tour in appearance row
Last updated on .From the section Golf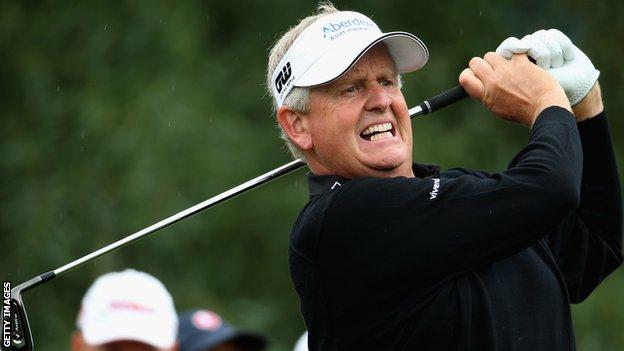 Colin Montgomerie says the European Tour should "call the bluff" of players threatening to quit over its "Final Series" regulations.
The rules prevent players participating in the lucrative DP World Tour Championship in Dubai unless they play in two of the three lead-up events.
Ex-Masters champion Charl Schwartzel is one of a number angry with the rules.
"You can understand the European Tour's point of view - it's difficult to find sponsors," Montgomerie said.
"The players are saying they are being dictated to and being told where to play but you shouldn't have to be told to play for $7m should you?
"They are professional golfers, that's their job. I think the Tour should hold firm."
The rules are designed to ensure high-quality fields at the first three of the Race to Dubai's Final Series events and not just for the $8m (£4.9m) season-ending tournament, which carries a $3.75m (£2.3m) bonus pool for the top 10 in the standings.
Eight-time European number one Montgomerie, who captained Europe to victory in the 2010 Ryder Cup at Celtic Manor, says players need to play on the European Tour to qualify for the sport's showpiece team event.
"They won't bin their cards because then they couldn't play in the Ryder Cup. Call their bluff - the Tour have a bit of power here," he added.
The European Tour may now review the regulations, which have prevented Schwartzel, Ernie Els and Sergio Garcia from competing in the climax to its season-long Race to Dubai.
Schwartzel, the 2011 Masters champion, is considering leaving the European Tour over the new rules, citing his other golf commitments and a fear of burnout.
Montgomerie, 50, has little sympathy for the complaints and pointed out that the schedules of his own generation of golfers were far more intense.
"People are saying they can't play four events in a row. For goodness sake, I played 13 in a row when I was at my peak," he said.
"Four in a row is not a lot, especially the way they are treated nowadays. They are like royalty with their private planes and suites. It's hardly a hassle is it?"
World number one Tiger Woods has also defended himself against criticism of his schedule, stating he is 'an independent contractor' free to choose where and when he plays.
Montgomerie says the players need to understand that sponsors will reduce the prize money on offer for tournaments if high-profile players are regularly absent.
"The first thing a sponsor asks when they are putting up $7m or $8m is who's playing? If you can say to these sponsors that the top players are going to play two out of the three that is why they put the money in."