Rory McIlroy says management issues have been a 'distraction'
Last updated on .From the section Golf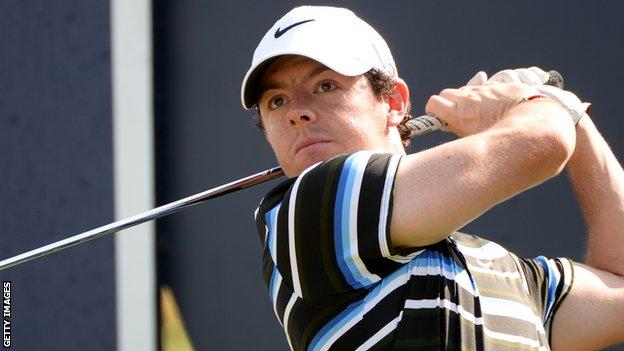 Rory McIlroy has said "countless hours spent with lawyers this year" have been a "distraction" as he heads into this week's World Tour Championship in Dubai still seeking his first win of 2013.
However, the Northern Irishman says he has been forced to deal with things "you shouldn't have to think about".
"It's just extra stuff in your head," the 24-year-old told BBC Sport.
Last month, McIlroy began legal action in the Republic of Ireland against the Dublin-based Horizon Sports in a dispute over management fees although the company has indicated that it is set to counter claim.
McIlroy has also set up a new management company to look after his own affairs.
Speaking in Dubai on Tuesday, McIlroy made clear his frustration at the amount of time he has had to devote to his management issues this year.
Throughout the summer, there had been speculation that he was set to split from Horizon Sports before the news was eventually confirmed in late September.
All that was going on as McIlroy's disappointing form saw him dropping from the world number one spot to sixth in the rankings.
"It's something that I don't think a professional athlete or any person should really have to go through," added McIlroy.
"You are taking time away from what you should be doing which is thinking about your game and focusing on your game.
"I've spent countless hours with lawyers and whatever this year."
McIlroy was at pains to make clear that he was not attributing all his 2013 struggles to his management difficulties.
"I'm not saying it's been a huge detriment to my game but it's just something that's filled my head when it shouldn't really be there," he said.
"I'm not making excuses because my game has not been good enough this year and I completely accept that and I take responsibility for that.
"But it would be nice next year when things hopefully are a bit calmer, if I can look forward to just playing golf."
Defending champion McIlroy says he will go into this week's Dubai event in a good frame of mind after some improved recent form, including his share of sixth place at the WGC Champions tournament in Shanghai two weeks ago.
"I'm coming back off a performance at the World Championship (event) in finishing sixth and being disappointed and it obviously means that things are on the right track," he said.
"It's (also) a golf course that sets up well for me. I've got positive memories from the last few years and I'm really looking forward to this week."