Road to Dubai: Henrik Stenson aims to make history in Dubai
Last updated on .From the section Golf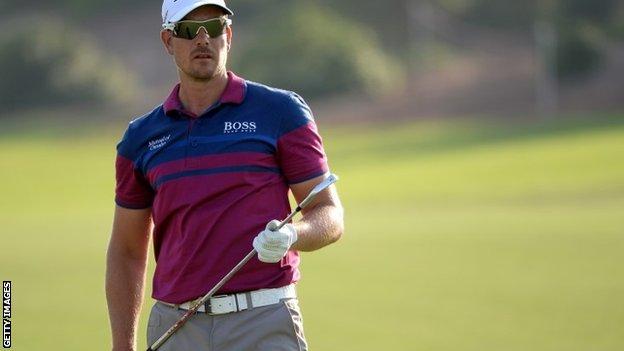 Henrik Stenson is hoping a wrist injury will not stop him from becoming the first player to win the FedEx Cup and Race to Dubai in the same year.
"I'm focusing on playing the best I can with my circumstances," said Stenson.
Northern Ireland's Graeme McDowell and England's Justin Rose would be crowned Europe's best golfer were they to win.
Rose is second in the standings, just over 213,000 points behind Stenson, while McDowell is third.
The prize money for the tournament, which starts on Thursday, is awarded in euros, with each euro equalling a point.
There are 994,000 euros on offer for the winner at the Earth Course at Jumeirah Golf Estates, meaning the top three contenders control their own destiny, with a further bonus fund of £2.35m to be shared between the top 10.
"It's a very similar situation to what we had going into [the FedEx Cup in] Atlanta and I kind of liked that set-up," said world number three Stenson, who, at 37, is chasing a first European title.
"The outcome worked out well for me there so I hope it can be the same again. But it's going to take a lot of good golf. It's a quality field as always.
"And I know that my neighbours, [Stenson, Rose, McDowell and fourth-placed Ian Poulter all live in Lake Nona in Florida] are my friends, but they are not going to start making bogeys because they like me."
World number five Rose, who was made an honorary life member of the European Tour on Tuesday in recognition of his US Open victory, saving him £150 in annual membership fees, is chasing a second overall title.
"I won it in 2007 as the Order of Merit and now it's the Race to Dubai," he said. "I've never held the trophy, even if my name is on it. I'd like to see if I'm strong enough to pick up this new trophy.
"I think 2007 came a bit out of the blue. It was a bit of an anomaly. I think this year has been built on a lot more solid foundations and therefore maybe means more."
McDowell was second in the standings but missed last week's event in Turkey and dropped to third after Rose finished joint third.
The world number 11 admits he has "moaned and whined" about the Earth Course before but insists he will not let it ruin his chances of becoming European number one.
"I'm experienced enough to not write myself off around a golf course until I've had a few rounds under my belt," said McDowell.
"The golf course is firmer and faster this year which I think is going to suit me. The rough is penal. The course has matured, hopefully as well as I have, and I'm ready to see what I can do with an open mind this week."
England's Poulter is one of six other golfers who could mathematically still end the season on top of the standings but he needs to win and hope Stenson finishes lower than second.
Poulter has finished 15th, second and fifth in the first three of the four events that make up the inaugural Final Series and feels he is with a good chance of winning the title for the first time.
"I've always done well under pressure, like my school report and school work," he said. "I never handed it in until the last minute. I always produced my best at the last minute."
Poulter also has a side bet on with Stenson, with the loser having to act as the other's personal waiter on a night out.
"That's probably the biggest motivator, not to become his servant," joked Stenson.
"But the number one focus is to win the Race to Dubai. Growing up on the European Tour it would mean a lot to be the overall winner of the Race to Dubai. I'm a European and the Tour has a special place in my heart.
"To have a chance to do it with winning the FedEx Cup is probably something I'm not going to have a chance to do again."
Despite injuring his wrist before the first of the four events that make up the inaugural Final Series, Stenson finished 34th in the BMW Masters in Shanghai and followed that with a 31st-place finish the following week and then seventh in Turkey on Sunday.
However, he has limited himself to playing just nine practice holes in Dubai.
"The way it felt on Tuesday at the BMW Masters I thought I was probably going to be on a flight home and not be able to play," he added.
"From there it's been good developments and fingers crossed it's going to hold out for these four days.
"Regardless, it is the best season of my career. There has been so many positives and so many great moments and this week could be the icing on the cake," concluded the Swede, who was runner-up at the Open and third at the US PGA Championship in 2013.