Henrik Stenson: Race to Dubai winner is Europe's brightest star

By Iain Carter
BBC golf correspondent
Last updated on .From the section Golf28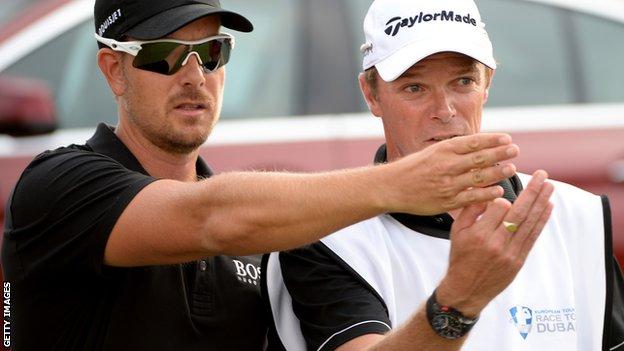 An indication of Henrik Stenson's current domination of the golfing world is the fact his caddie now drives a Ferrari.
Gareth Lord started working for the Swede at the beginning of the year, when Stenson was ranked outside the world's top 50. He's now third in the standings and pressuring the top two, Tiger Woods and Adam Scott.
Stenson's stunning six-shot victory in the DP World Tour Championship was his third success in a spell of seven top-three finishes from 12 events that started with his third-place finish in July's Scottish Open.
Dubai runner-up Ian Poulter summed up his rival's astonishing form when he said: "He's playing the best golf on the planet right now."
When you consider Masters champion Scott has won back-to-back titles in his native Australia over the past fortnight, that is some compliment from the Englishman.
But Poulter is spot on. It is not just Stenson's burgeoning bank account that reflects the incredible form he has shown since early summer.
The 37-year-old's victory in the season finale meant he shut out his rivals for the European Tour money list title in the same way he did in the Tour Championship to win the PGA Tour play-offs in September.
It is a unique double, and the first sign he was hitting top form came when he finished 21st at the US Open at Merion in June.
"We had a chance to win with nine to go and no-one really knows that; we were only two or three back," caddie Lord told BBC Sport.
"We didn't do very well on the back nine but it wasn't his sort of course. To be in the thick of it that week, we left there thinking we were on the right track. Looking back, that was the start of it."
Stenson's swing coach Pete Cowen credits Lord with giving Stenson the confidence to use his driver more. The Swede has suffered fearful problems with the big stick in the past.
The key moment came in the World Golf Championships event in Akron in August. Lord, from Coventry, recalled: "Henrik's probably played eight or nine times there and he was playing well at this point.
"I was watching these drives on the range just whistle 300 metres straight as an arrow. We got on the eighth, I think, where every inch it's a hole to bomb it.
"He said: 'I've always hit three wood here.' And I'm wondering why. I just couldn't see it and he said: 'All right, let's hit driver.'
"He hits it great now. We only hit three wood now because he runs out so much with driver. We are trying to hit it to spots, be it three wood, four wood, three iron or driver.
"We are trying to get it into position and nowadays he will hit whatever it takes to get there."
Stenson has won at every level of the game bar the majors. Given his form, he could be forgiven for feeling frustrated that he will have to wait until April for the Masters to come around.
Typically, the player sees it differently. And his reasoning reveals why he has had so much success in the 2013 season.
"That just gives me more time to practice and prepare and hopefully be even better," Stenson told BBC Sport. "That's what we are going to aim for.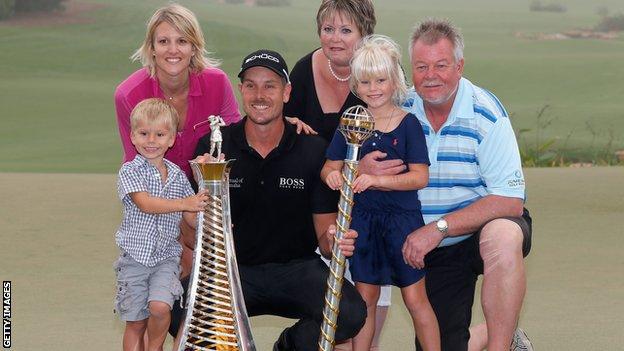 "It is very hard to win a major championship. There are only four and you are up against definitely the best players in the world. It's all about working hard and putting yourself in position."
Now the winner of 15 professional titles worldwide, Stenson knows he will carry a burden of expectation when he arrives at Augusta next spring.
"I draw a lot of positives from this summer, being so close at both at the Open Championship [runner-up] and the US PGA [third], while still feeling like I've got more to give in my game.
"I showed this week that I can handle quite a high level of expectation. Whether you win or not is another story but it all comes down to focusing on the things that are important.
"That's not what other people expect or think. I would always put high expectations on my own shoulders and that's partly why I get frustrated at times.
"I expect a lot of myself and hopefully I'll get the chance to win one of the big ones."
Stenson was thrilled to win for the second time in Dubai, having claimed the Desert Classic in 2007.
It was no surprise, therefore, that he welcomed the news the Emirate will continue to stage the Race to Dubai through until 2017 after the European Tour landed an extension to the current deal.
The announcement provided an encouraging end to a turbulent week, following criticism of the playing regulations that governed the inaugural running of the Final Series of tournaments.
Rules will be tweaked in time for next year safe in the knowledge Stenson is the continent's brightest star at the moment.
He has already booked his place in Paul McGinley's Ryder Cup team, having amassed more than 200 ranking points on the world list with 10 months to spare. For the 2012 team, 172 points were sufficient.
Stenson looks destined be one of the mainstays of the European team as they bid to defend the trophy against the United States. You also know his caddie is likely to be driving to Gleneagles in some style.