R&A: Slow-motion and HD replays to have reduced role in rules
Last updated on .From the section Golf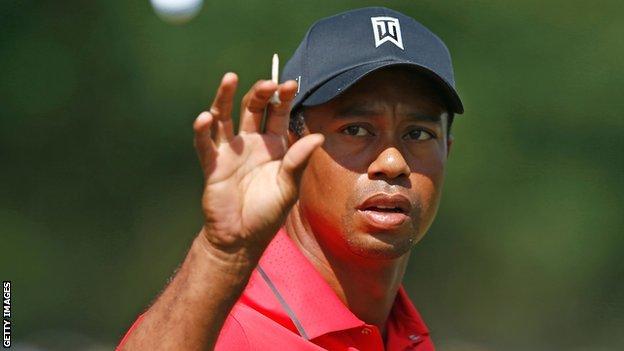 The R&A and USGA have ruled that players will no longer be penalised if slow-motion video or high-definition replays show a ball moved when at rest but was not obvious to the naked eye.
The rule will limit the role of the kind of "enhanced technological evidence" that saw Tiger Woods penalised at the BMW Championship.
The ruling takes effect from 1 January.
According to the R&A and USGA, the Decision 18/4 rule was debated before the incident involving Woods in the BMW Championship in September, where the world number one tried to remove a twig from beside his ball before playing his third shot on the first hole at Conway Farms.
Woods felt his ball had only oscillated before he ran up a double-bogey six, but high-definition video footage showed that it had slightly shifted its position and his score was amended to a quadruple-bogey eight.
A USGA official advised Woods to watch a video of the incident before signing his card, but the player refused.
David Rickman, the R&A's executive director of rules and equipment standards, said "We think it's not right to disregard any evidence, but we are particularly concerned that the likes of high-definition and super slow-mo cameras does mean that TV may show a version of events that the player has no opportunity to see."
As part of the 2016 review of the Rules of Golf themselves, the R&A and USGA are also examining the effect of video technology on the necessary precision in marking, lifting and replacing a ball, the estimation of a reference point for taking relief and the question of the appropriate penalty for returning an incorrect score card where the player was unaware that a penalty had been incurred.
Among changes for 2014, players will now be able to access weather reports on a smartphone during a round without breaching the rules.
Other new rule changes coming in from next year include a revised decision 25-2/0.5 that helps to clarify when a golf ball is considered to be embedded in the ground and revised decision 27-2a/1.5 allows a player to go forward up to approximately 50 yards without forfeiting their right to go back and play a provisional ball.