Graeme McDowell set to play for Ireland in Rio Olympics
Last updated on .From the section Golf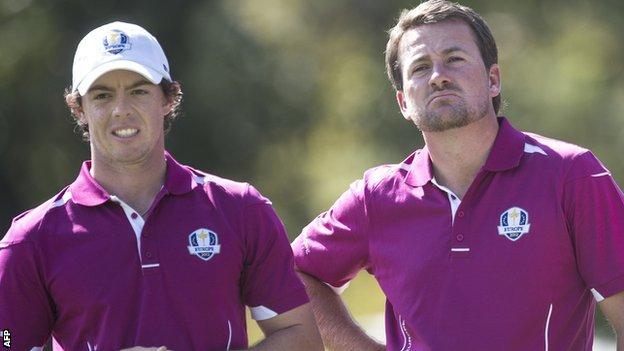 Northern Ireland's Graeme McDowell expects to play for Ireland at the 2016 Olympic Games in Rio.
McDowell is representing Ireland at this week's World Cup in Melbourne, which rules out the option of playing for Team GB in Brazil.
Olympic rules state that he could only play for Team GB if three years have passed since representing Ireland.
"With Olympic regulations I'll have to play for Ireland when it comes to the Olympics - if good enough," he said.
Athletes born in Northern Ireland are eligible to represent Great Britain or Ireland at Olympic Games.
Fellow Northern Irishman Rory McIlroy still has the choice of playing for Great Britain or Ireland in Rio, if he decides to take part.
Like McIlroy, McDowell has been reluctant to commit to either team due to the political ramifications of such a choice and has called on the International Olympic Committee (IOC) to decide for him.
He added: "It is a very touchy political and religious subject, one that myself and Rory have not really enjoyed answering questions about the last few years because it is very difficult to pick a side because you are going to end up upsetting someone from either side.
"From my point of view, when the World Cup came back on the schedule and it was coming to Royal Melbourne, I knew that I wanted to be part of this team. We have always represented Ireland when it has come to the World Cup."
R&A chief executive Peter Dawson has expressed sympathy for the Northern Irishmen's dilemma, and said earlier this year that he hoped the burden of choice could be taken away from them.
McDowell appeared confident the issue was settled.
"Part of me feels relieved to not have to make that decision," said McDowell, who will team up with Ireland's Shane Lowry at Royal Melbourne.
"It certainly did not enter into my reasons to wanting to be here this week. I wanted to be here and play with Shane, around Royal Melbourne, in a golf tournament which I have always loved."