Paul Lawrie upbeat on form ahead of European Tour return
Last updated on .From the section Golf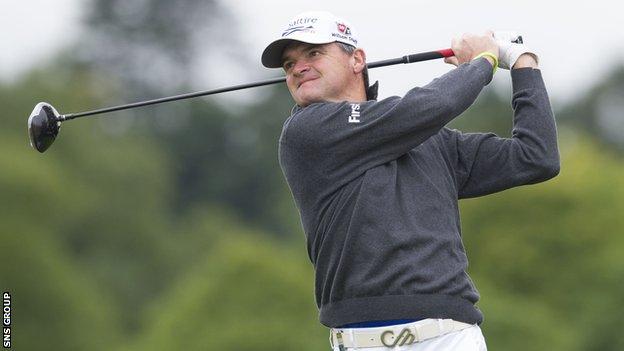 Paul Lawrie thinks his game is now in better shape than it was when he played a key role in Europe winning the 2012 Ryder Cup in Medinah.
The 44-year-old Scot labelled last season a "nightmare" and has slumped to 112 in the world rankings.
But he remains confident that he can get into contention for a place at this year's Ryder Cup at Gleneagles.
"I think I've got myself sorted out and I'm looking forward to getting stuck in," he told BBC Scotland.
Lawrie has not played yet this season and will tee off for the first time at the Abu Dhabi Golf Championship on 16 January, while he will remain in the Middle East for the following Qatar Masters, which he won in 2012, and the Dubai Desert Classic.
And scheduling is all important for the Aberdonian, who is desperate to feature in his third Ryder Cup, having made his debut in 1999.
"When you are a professional sportsman, you're dealing with pressure every week, more from myself," he explained.
"I want to do as well as I can, every week and the goal is to try and play everything down.
"Obviously, it's impossible not to think about the Ryder Cup because everyone keeps reminding me of it; it's that big a deal.
"I want to play in the team as much as anyone."
Speaking last month, former Ryder Cup skipper Bernard Gallacher described Lawrie as the "catalyst" for Europe's dramatic win in Medinah and said he hoped his fellow Scot would be selected again.
Nine players qualify automatically - four from the European points list and five from the World points list - with three wildcards selected by captain Paul McGinley.
"The way I played last year, I would have had no chance of making a team of that kind of quality," added Lawrie.
"Even if I don't make it automatically, my job is to give captain McGinlay a bit of a headache about whether to pick me or not.
"I need to put myself up there and put some good performances on the board.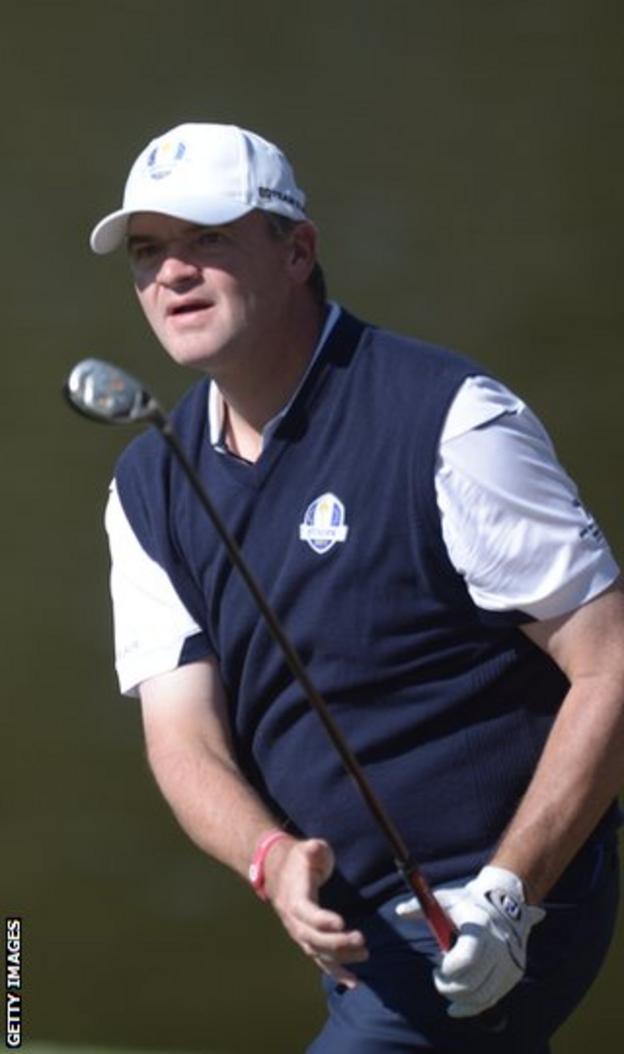 "It's going to be a huge week. To have a tournament the size of the Ryder Cup in Scotland; it's going to be awesome.
"The tournament will be a success with or without Scottish players in it. The Ryder Cup is just a massive, massive event. But I think if we can get even one Scot in the team it will make a huge difference."
Lawrie, the 1999 Open champion, had a long wait to sample his second Ryder Cup and is anxious to avoid previous mistakes.
"I was desperate to get in Sam Torrance's team. I've know him a long, long time and he helped me quite a bit in my early career and I knew he'd be a fantastic captain," he said.
"But I overdid my schedule, I overdid everything and put myself under a huge amount of pressure.
"The last time I got it right. My schedule was really good and I played some nice golf. The confidence flows when you are playing a bit better and it just kept going.
"Last year was a combination of not hitting as many fairways and greens as I did the year before and taking more putts. Those three factors add up to be a complete nightmare.
"So I've worked on my swing and it's probably better than it was in 2012. My putting feels a whole lot better; I've hit thousands of putts over the winter and there's a lot of confidence coming back with that.
"It's not important to get off to a cracker of a start but just reach a consistent level and things will snowball from there."