Tiger Woods needs improved display in Dubai Desert Classic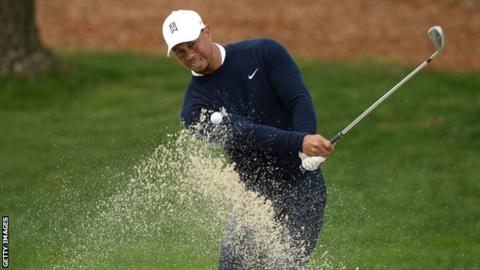 Few players shed close-season rust better than Tiger Woods. It usually takes just one dodgy tournament before he is ready to compete for titles again.
The world number one's early exit at Torrey Pines last week was out of character because he has enjoyed so much success at the San Diego venue.
As a professional he has won there eight times, including the 2008 US Open, but he missed the unusual third-round cut after an ugly 79 and left without comment.
However, despite failing to birdie any of Torrey's par fives, he won't be pressing panic buttons.
He knows how quickly he can turn around his fortunes. Twelve months ago, the 38-year-old missed the halfway cut in Abu Dhabi.
Then he headed to the Farmers Insurance Open at Torrey Pines to collect the first of five titles in yet another Player of the Year season.
Woods doesn't lack for a sense of occasion, either. This bodes well for a decent bounce back for the 14-times major champion at the Dubai Desert Classic which starts on Thursday.
The tournament celebrates its 25th anniversary with all the previous winners, apart from the late Seve Ballesteros, taking part.
Woods is bidding for his third title in the desert event that resonates most with golf fans across the globe.
The reason for this is down to the deep pockets of sponsors prepared to pay huge appearance fees to attract the biggest names. It is also staged on a magnificent course.
In all bar two of the Desert Classics, the Majlis Course at the Emirates Golf Club has been the host venue for this trail-blazing event.
Originally the brilliant layout sat in the middle of barren desert next to the main route from Dubai to Abu Dhabi; now it is located amid a spectacular high-rise skyline that stretches as far as the eye can see.
It is as though a modern-day Manhattan has sprung out of the desert and there is little doubt that golf, and this event in particular, has played its part in putting Dubai on the map.
Back in 1989, it was a bold move to stage a European Tour event in such a location.
The "Karl Litten Desert Classic", as the inaugural event was known, was won by England's Mark James when he beat Peter O'Malley in a sudden-death play-off.
Some of the game's biggest names have triumphed with landmark victories over the ensuing quarter of a century.
Three-time winner Ernie Els (1994, 2002 and 2005) and Rory McIlroy (2009) both claimed their first European Tour titles in this tournament.
Ballesteros's triumph in 1992 brought the event to the fore, especially as the previous year's staging was cancelled because of the first Gulf War.
In 1996 Colin Montgomerie struck one of his greatest shots, a driver off the deck to find the home green in two, for a birdie that secured him the title when at the height of his powers.
The only downside to the impact of this event and those that have followed elsewhere in the region is that it hasn't created any genuine home talent.
Only two United Arab Emirates players figure in the world rankings - Ahmed Almusharrekh (1,508th) and amateur Sohail Al Marzuqui (1,509th). Golf in the area is still very much the preserve of the ex-pat communities.
All this despite the European Tour's order of merit, the Race to Dubai, culminating in the UAE at the end of each year and soldout signs being posted to greet Woods' first appearance in Dubai in 2001.
Woods has claimed victories in 2006 and 2008. This time he arrives with television commentators claiming he was swinging like a 55-year-old at Torrey Pines.
His 79 on Saturday was his worst score since shooting the same number at last year's Memorial Tournament.
This week the 38-year-old will be keen to deny golf's chattering classes ammunition to fuel talk of terminal decline.
It is far too early for that, anyway, even though it is more than five years since his last major victory.
But a poor performance with the lottery of 18 holes matchplay looming in Arizona next month has the potential to create a worrying slant to his build-up to the April's first major of 2014, the Masters.
Woods loves to preserve an aura of invincibility heading into majors.
So, as is always the case with him, there is much more than his hefty appearance fee to provide motivation in Dubai when the action starts on Thursday.
After his 79 in California on Saturday, Woods will hope he has rid himself of the close-season rust.
Now is the time to put his season on track. His past record suggests he is well equipped to succeed in that objective and this week he certainly has the stage on which to do it.