Graeme McDowell column: I'm revved up for 2014 & Ryder Cup
Last updated on .From the section Golf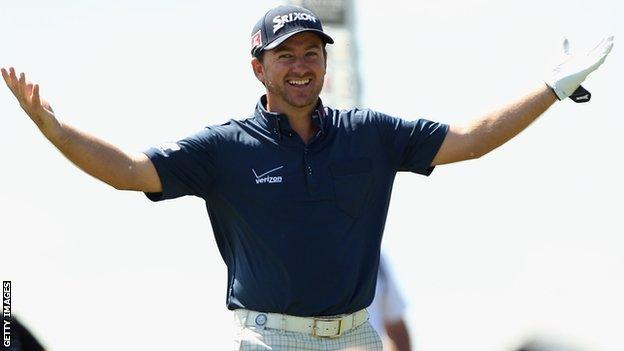 I'm very excited to be embarking on the new journey of blogging on the BBC Sport website.
Wherever I am in the world, it's my morning routine to log on to the site because these are the "go to" pages to catch up with all my sports news.
It's great for me to be here, having the chance to share with you what is going to be a massive year in golf and, hopefully, for me, too.
In my monthly blogs, I want to give you as many insights as I can.
Obviously it is a Ryder Cup year but my feeling is that I just want that to arrive amid good, consistent golf. I mean getting into the team for Gleneagles will be the result of good processes and good play.
For me, it's a case of taking the best bits from my last two years. I want the consistency of 2012 when I had my best ever year in the majors. What that year lacked was an "X" factor - or should I say the "W" factor.
Yes I won Tiger Woods' event at the end of the year but I didn't get the wins to back up my consistent form. It's funny because they did come last year when I was really inconsistent.
We called it "binary golf" because I went through a spell of either winning or missing the weekend. I went win, miss cut, win, miss three cuts and then win again at the French Open.
It was a crazy run and made for an interesting year. To win at Hilton Head for my first PGA Tour title was very pleasing. I always thought I could win on that classic layout, and likewise the French, and to win the Volvo World Matchplay - such a prestigious title - was really great.
But it was inconsistent and looking back there were a few factors. It was a tired summer from the US Open onwards. It's something I'm working on because I hit the wall and, while my heart was beating, the body wasn't responding.
It's why I've once again taken a big break before starting my 2014 season. I've got to be in position to be ready for all the big events - the majors, my title defences, the PGA play-offs and of course the Ryder Cup.
I've already taken steps because scheduling is key: not just tournament schedules but off-course activities. There are so many appearances and things like that you can do, but they can drain you and cause you to take your eye off the ball.
I will do a week to 10 days less of the off-course activities this year to help keep fresh. I've got my fitness levels up and I'm addressing a little bit of a lack of solid direction in my golf swing that crept in last year. Basically I was jumping around too much on different swing themes.
My coach Pete Cowen flew out to Orlando at the start of the year and we got some great work done. I said to him that we need to find a consistent path because I'd been making too many adjustments. Pete's very knowledgeable and he has lots of ways of trying to explain things.

But last year I held on to them too much rather than sticking to a consistent game plan. That's what I want for this year because I believe it will lead to consistent results.
A fourth consecutive Ryder Cup is a massive goal. Captain Paul McGinley was at a "Best of Ireland" charity foundation event with me in New York at the end of last week and we had a good chat about it.
Paul feels he's got all the logistics in place and now it's all about player communication.
It is very early to get obsessed about it. Come May and June, form is going to be more important. I just know I have to give him all the reasons to have me in the side - ideally qualifying automatically and not having to rely on one of his three wildcard picks.
Looking at the numbers, there are three or four players who already seem locked in to the team - the likes of Henrik Stenson, Victor Dubuisson, Thomas Bjorn and Jamie Donaldson.
None of them played at Medinah last time so it's clear some good players are going to miss out and I'm acutely aware it could be me. That's why you just have to focus on your game and let the Ryder Cup come in a run of good form.
David Feherty was also at the charity bash and he told a great story. When Paul McGinley was about to play his famous match against Jim Furyk in the 2002 Ryder Cup, David was standing on the putting green.
Just before they went out he gave Paul a marker with a four leaf clover on it. Paul used it in the match and, as we all know, he went on to hole the winning putt.
What you might not know is that as he was about to be thrown in the lake by his jubilant teammates, all Paul could think about was keeping the lucky marker safe in his pocket!
I'm lucky enough to know all about such moments after holing the winning putt at Celtic Manor, but it's vital I don't get ahead of myself with Ryder Cup thoughts.

It's all about the early season now and the break has been massive for me. I'm revved up for the start of the year and raring to go for the PGA Tour pro-am at Pebble Beach.
I couldn't ask for a better place to start, having lived my dream when I won my US Open there on father's day in 2010.
And this week will be a real 'bucket-lister' because I will be partnered by my dad Kenny, the first time we've played together in what's always a great event.
It's sure to be a really emotional return. I'm so buzzed up and I can't wait to get going.
Graeme McDowell was speaking to BBC Sport golf correspondent Iain Carter