World Matchplay at London Club needs big names and big crowds

By Iain Carter
BBC golf correspondent
Last updated on .From the section Golf39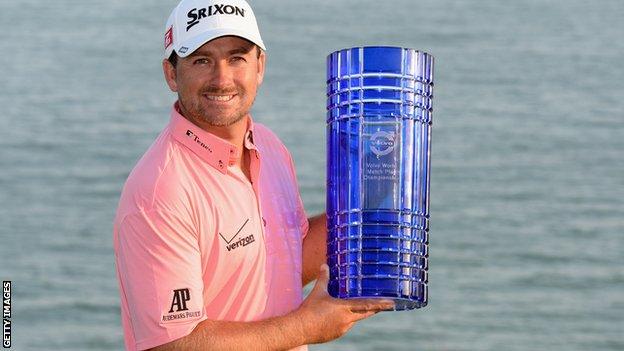 English golf fans have been given a welcome boost with the announcement that the Volvo World Matchplay will be staged at the London Club in October.
Now it's up to the players to turn up to provide a field worthy of the historic tournament first won by Arnold Palmer 50 years ago.
Defending champion Graeme McDowell and Race to Dubai winner Henrik Stenson have already confirmed their participation at the course near Sevenoaks in Kent.
It has been a cruel irony that fans in England have been largely starved of top-flight golf while many of the country's leading stars have been riding high in the world rankings.
Former world number ones Lee Westwood and Luke Donald along with Paul Casey, who rose to third in the standings, have been vocal in calling for more tournaments in England.
Since the demise of the European Open, which was last staged at the London Club in 2009, the only top men's events in England have been Opens at Sandwich and Lytham and the annual Wentworth gathering for the BMW PGA Championship.
Organisers are confident that the 16-man Matchplay field will be drawn almost exclusively from the world's top 50. A purse of around £2 million with a guaranteed £40,000 for those who don't make the knockout stages should help.
There are various eligibility criteria, including the winners of this year's majors, Scottish Open and China Open as well as leading players from the world rankings and Race to Dubai.
It's to be hoped the big stars buy into the event to restore it to what was a beloved place in the British sporting calendar.
The timing is similar to those glorious autumnal days at Wentworth when the likes of Jack Nicklaus, Gary Player, Seve Ballesteros, Greg Norman and Ernie Els provided wonderful memories for vast galleries.
They won't be playing the 36-hole knockout contests of old but initially 18-hole round-robin matches. The top two from each group will qualify for quarter-finals of an event that will stretch over five days from October 15.
If the top stars turn up, the crowds will surely follow and this is vital. Recent stagings of the tournament at Finca Cortesin in Spain and last year at Thracian Cliffs in Bulgaria have been at spectacular venues but they lacked the atmosphere head-to-head golf should generate.
"The blood and guts of this game is matchplay," European Tour Chief Executive George O'Grady told BBC Sport. "People watching it creates atmosphere.
"I would hope that's what the London Club is going to bring. We had enormous crowds when we had the European Open there. I think if you watch matchplay golf in that sort of way we can inspire boys and girls with golf in it's rawest form.
"We are coming three weeks after the Ryder Cup, which is the absolute epitome of matchplay golf," O'Grady added.
The Tour official believes the return of the tournament to England could lead to more events being staged on these shores.
"We are working on a regular event on a yearly basis in the United Kingdom. Our big partners are going to help us in that direction and this is a taster and a great one at that."

O'Grady won't be drawn on specifics but tournaments such as the European Open and British Masters have slipped from the calendar in recent years.
"We've listened to the calls for more tournaments in England and the United Kingdom. It's no secret that it has been quite a tough economic climate in the last few years but there are people who want to help us.
"The Volvo World Matchplay will inspire people to want to play and inspire other sponsors to come into the game. It's a question of getting the right dates."
O'Grady mentioned the refurbished Belfry and "courses in the north of England" as potential future European Tour venues.
Intriguingly officials from Volvo, the International Management Group promoters and the Tour were also openly speculating about the prospect of staging mixed events as well.
They can see the value in leading women sharing the stage with top men's players when limited-field matchplay makes it logistically possible to simultaneously stage separate tournaments.
It seems more likely such events would occur in the far east, where there is so much strength in the women's game.
In the mean time, though, home fans have another date for their diaries. Already in place were the Wales Open, Ryder Cup at Gleneagles and Scotland's Alfred Dunhill Links Championship in consecutive weeks.
Now we know the Matchplay will follow a couple of weeks later in Kent to make it quite an autumn for British golf fans.