Tyrrell Hatton: Rookie's rise from Buckinghamshire to big bucks
Last updated on .From the section Golf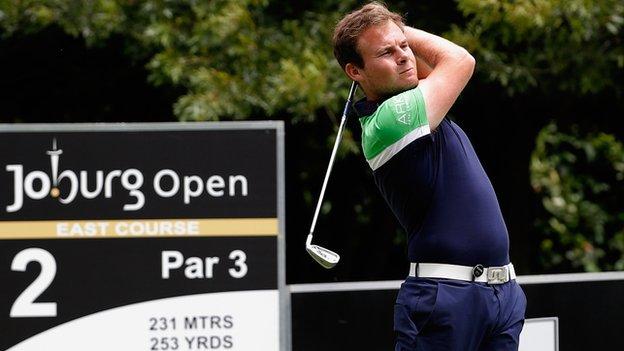 Tyrrell Hatton was just one of a hungry pack of young golfing hopefuls little over a month ago when the bells chimed to ring out the old year.
After his first month as a European Tour player, all the 22-year-old Buckinghamshire golfer had to show for the final month of 2013 were too many crucially missed putts - and two missed cuts.
But a month is a long time in golf. And, since the herald of 2014, Hatton has announced his arrival on tour with two top-10 finishes (the second of them a joint runners-up spot in Johannesburg on Sunday), more than £125,000 banked, and just one over-par round out of his last 14.
Sunday's tie for second at the Joburg Open, where he shot four sub-70 rounds of 67-69-69-66, was the obvious highlight, as he finished three shots adrift of the winner, George Coetzee.
But Hatton admits that it was his performance three weeks earlier, in Abu Dhabi at the HSBC Championship, in the company of two of the world's top six, that really gave him belief.
"To finish in the top 10 with the likes of Phil Mickelson and Rory McIlroy gave me the confidence that I could do well," he told BBC Sport.
"And I was really pleased with how I performed in Joburg last week."
Hatton's run of results (he also tied for 22nd place at the Commercial Bank Masters in Qatar in between) has propelled him up to 31st on the European Tour's order of merit - the Race to Dubai, as it is now known - having taken his earnings for the year so far to 152,136 euros.
The Marlow golfer has set his targets for the year - keeping his Tour card by making the top 110, and maybe even winning a place at the end-of-season showdown in Dubai by finishing in the top 50.
"That would be great, to get to Dubai," he said. "That has to be my target for the year now. But, obviously, keeping the card is a priority.
"Last year, 225,000 euros was not quite good enough and, with this being a Ryder Cup year, it will probably be more like 250,000 euros this time round, but I've made a good start."
It was at the Challenge Tour Grand Final in the autumn where Tyrrell won his Tour card. A sixth-place finish at that event moved him up to 10th on the Challenge Tour order of merit and brought automatic promotion to the main Tour.
But for Hatton - taught the game by his golf-mad father Jeff at his local club Harleyford, close to the River Thames - it was a change of weapon that proved the catalyst to his run of success.
He was found a new driver, a Ping i20, by his dad - a keen amateur golfer who gave up his job to launch his own business Hatton Golf, as a custom-made fitter of clubs.
That has given Hatton, who was already capable of 300-yard drives, the accuracy on the fairways to push him on.
"From there, with the new driver, I went 10th, second, second in my next three events on the Challenge Tour," he said.
A model of consistency, he missed just two cuts in 17 appearances, his mid-season switch of drivers proving the key. That, and holing a few putts.
"At the South African Open, I had a five-foot putt which rolled off the green, I made double bogey and missed the cut by two," he said.
"Then, the following week, at the Alfred Dunhill at Leopards Creek, I three-putted the last and missed by one.
"But, since Christmas, while my accuracy with the driver has allowed me to go for a few more pins, I've been putting well too. It does make a difference."
For all his success, however, the one thing that did not go Hatton's way on Sunday afternoon was earning a place at this summer's 143rd Open Championship, at Royal Liverpool.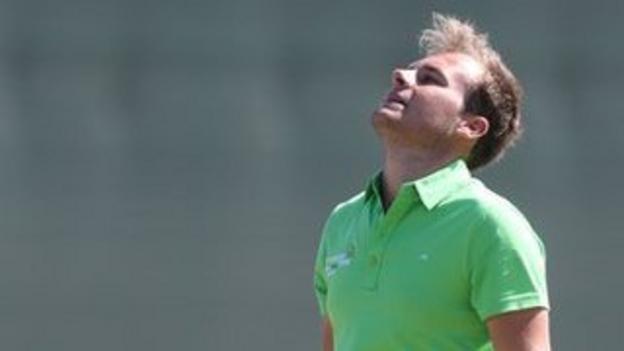 Hatton has twice played at the Open before, as an amateur at St Andrews in 2010 and then last year at Muirfield when, while still in the process of making his switch of drivers, he missed the cut by a long way.
The Joburg Open offered him his first chance of booking a third trip, as it was also being used by the Royal & Ancient as the second of this year's eight restructured Open qualifying events.
The first three events offered the chance to book an automatic place at Hoylake - and Hatton knew he was in with a chance.
But, although finishing tied for second with South African Justin Walters and South Korea's Jin Jeong, he missed out because of his lower world ranking.
Having been ranked 800th 12 months ago, that world ranking is now much improved. He has, in fact, catapulted up to 208th, but Hatton shows the sort of standards he has set by blaming himself.
"It was disappointing," he said. "I had an eagle putt on 17 and that was the one I thought I needed, but I missed it."